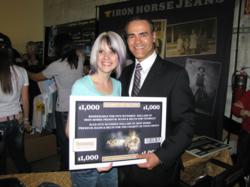 It is a real Privilege to have Iron Horse Jeans in the Celebrity Gift Bag. Said Mark Wentrua
Ramona, California (PRWEB) March 02, 2013
Iron Horse Jeans™ put over $500.00 worth of their jeans into the hands of each of the Oscar's red carpet celebrities and nominees during the Academy Award's Connected gift bag event. But the real gift came when Iron Horse donated matching amounts to each celebrity's charity of choice totaling well over $125,000 at the infamous Oscar event held at the Ben Katai Movie Studios in Hollywood Ca.
For their second time in the Oscar Gift Bag, This unprecedented contribution by Iron Horse Jeans™ did not go unnoticed by the celeb's that attended. Each celebrity was touched, moved and inspired by the generosity of the Iron Horse Jeans™ contribution. "Our phones have started ringing immediately with more inquiries and thanks from celeb's and agents" said Mark Wentura, Iron Horse Jeans™ President. "It's our commitment to always give back to the community everywhere we go," he added. "I have never seen this done at a gift event…. It's great!" said Argo's Ali Saam.
Iron Horse Jeans™ is a new denim alternative - an exclusive jeans brand that offers designer jean styles at affordable prices with superior features. Jean wearers of all ages have come to know and love Iron Horse Jeans vintage washes, denim finishes, 11 and 12 ounce fabrics, and customized details like half inch double needle stitching and copper tin hardware trim. http://www.ironhorsejeans.com
Since the launch of Iron Horse Jeans™ in September of 2009 the company has been sponsoring numerous rodeo events, trade shows and is now available in many retail locations across the United States, Canada, Australia and Europe.
In addition to the OSCAR's, look to see Iron Horse Jeans™ at numerous other award shows including The Kids Choice Awards, MTV and many high profile events as more celebrities, athletes and top names begin to wear their jeans.
The Iron Horse Jean Company was formed to fill an obvious gap in Fashion jean apparel. That's why they have geared up to deliver the hottest fabrications in jeans, knitwear and belt accessories, reflecting what today's consumer wants and needs. Fabrics, designs and details based on years of experience working with the demanding Mainstream market.