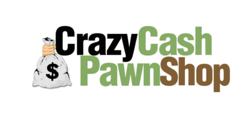 We are now proudly serving many repeat customers and eagerly anticipate many new customers in the future. Our customers look to us for great deals to get them through tough economic times. We look forward to serving you!
Union City, NJ (PRWEB) March 01, 2013
Crazy Cash Pawn Shop. When the bank says no, Crazy Cash is here to give you money. Crazy cash is Helping the community pay its bills. Bring in valuables and get top value at Crazy Cash. Crazy Cash Pawn Shop is conveniently in Union City NJ, right outside the Lincoln tunnel. Close to 47th street diamond district, without the hustle and bustle, tolls and parking of New York City. Conveniently park at a close by garage or meters and Crazy Cash Pawn will pay for parking. Crazy Cash Pawn Shop is a one stop shop to buy/sell or trade gold, silver, platinum or whatever item of value. Crazy Cash also gives crazy payouts for video games systems, games, laptops and cell phones almost anything of value Crazy Cash Pawn Shop will buy it. Crazy Cash Pawn Shop is a bi-lingual establishment speaking Spanish and other languages. Looking for a cheap MacBook Crazy Cash has MacBooks for under $400, LCD Monitors for $49.99. Crazy Cash Pawn Shop just opened up and is giving crazy deals to buy, sell or trade valuables. Everyday Crazy Cash Pawn Shop is increasing its inventory and offering crazy offers on computer equipment, iPods, cameras and more.
In the coming months Crazy Cash Pawn Shop will develop its community online to offer Crazy Cash deals on the web. Clients can now request a free appraisal of their valuables and Crazy Cash Pawn will have the valuables shipped to our location bonded and insured and process payment within 24 hours all while the customer is conveniently in their home. As a bonus from now till the end of March 2013 if someone comes in and says crazy cash 6 times out loud they will get an instant $10 saving on their item or receive $10 more when selling your item. Come in for Crazy Cash deals at Crazy Cash Pawn Shop where the prices are insane.