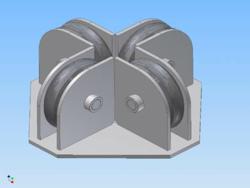 According to our records, we are experiencing about twice the life of our closing wire ropes, averaging three to six weeks, a couple of times eight weeks. We were only getting about two weeks with the older style buckets & guide roll
Slaughter, LA (PRWEB) March 13, 2013
Anvil has now adopted their patented cluster sheave design across its entire line of cable buckets and grapples. Anvil received its Patent for their Cluster Sheave design in 2008; its early use was primarily on their 4 rope direct reeve clamshell buckets. The results of this design have been tremendous by increasing cable life up to 3 times.
Anvil Attachments continues to be on the forefront of bucket and grapple innovation. Anvil has learned that quality bucket design does not only come from their use of cutting-edge technology, 3D design, FEA analysis and LEAN manufacturing. The primary source of quality design comes from the customers themselves, the men who are in the field all day working with their equipment. Anvil is continually questioning their customers, asking them what they would like to see in a bucket or grapple, what don't they like and how can we improve.
One thing that customers repeatedly stated as an issue was having to stop in the middle of a job to restring cable. This is a time-consuming and costly process. Not only is the cable expensive, but there is also the cost of downtime while unhooking the attachment, restringing, then re-hooking. This often occurs in the middle of a job, where time is money.
Jon Craft, president of Anvil, was having dinner with a large group of Kone Crane representatives in Houston. They were discussing issues with clamshell buckets, and the highest complaints have always been cracking and cable wear. Together, they all talked and drew different ideas on napkins; Jon's idea was the cluster sheaves which Anvil manufactures today.
A sheave is a wheel or roller with a groove along its edge for holding a belt, rope, or cable. When hung between two supports and equipped with a belt, rope or cable, one or more sheaves make up a pulley. The words sheave and pulley are sometimes used interchangeably. The purpose of the cluster sheave is to replace a fair lead or the standard guide rollers that have been the industry standard for years. The average guide rollers were 4 inch round and cylindrical. When the grab leans over or lists, the cable is actually rolling over a flat cylinder object. This works against all the standard criteria for adequate cable life. The cluster sheaves create a true circle in a larger diameter, similar in shape to the cable.
The patent was approved for the cluster sheave design in 2008 and, over the past five years, the results have been better than first anticipated. This design has drastically increased cable life for Anvil's customers, doubling and tripling in most instances. Chevron in Pascagoula, MS states "Anvil has been able to double our cable life resulting in savings of over $125,000.00 per year on the cable alone." Motiva in Port Author, Texas says "We have increased our run cycles over 200% with the new model bucket from Anvil." And finally, Don Paulino with Kone Cranes states "We feel the Anvil product line adds value to our crane systems. It is the only bucket we will offer with our packages."
Here is an example of the cost savings that the cluster sheaves can bring:

Cable cost estimated @ $4.218 per. ft.
Monthly Estimated cost @ $26,494.34
Annualizing the cost of cable

$317,932.00 per yr.
Reduced by ½ and you save $158,966.00
This does not include labor.
This also does not include down time.
Up to this point Anvil used this design strictly on its 4 rope direct reeve clamshell buckets. Anvil has now adopted this design across its full line of cable buckets and grapples. This includes two and three rope applications. Anvil most recent adaptations include using this design on its radio controlled single line clamshell buckets and two 15 cubic yard 4 rope 8 tine scrap grapples being used in a stevedoring operation.
Anvil Attachments is an award winning manufacturer of bulk material handling attachments. They offer the most diverse product line in the industry, including hydraulic and cable clamshell buckets and hydraulic and cable grapples.
Anvil recently won the 2012 IBJ award for best grab and is the preferred grab manufacturer for many of the leading crane manufactures.
Anvil utilizes state of the art FEA design on all of its clamshell buckets and grapples which allows them to design grabs with the precise weight to strength ratio for the material handled. Anvil practices LEAN manufacturing on all of their products which reduces cost and improves quality.