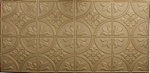 Margate, Florida (PRWEB) March 01, 2013
The panels are made of durable Styrene and come in matte white finish which can be used as is, painted with a roller, or sprayed with any oil-based or latex paint. These products are available in six styles, including floral and geometric designs. Antique Brass, Bronze, Copper, and Silver are a choice on each of the patterns. These finishes replicate the glittering look of metal at a fraction of the cost.
The Thermoform process means that the designs' details are sharper and crisper than those on tiles created by the metal-stamp process.
Because of their 2' x 4' size, the new tiles are perfectly suited for larger rooms as well as rectangular spaces.
They can be easily cut and shaped with ordinary household scissors.
All of the panels are Class A fire-rated for safety. They are water-resistant, which means they can be easily cleaned, so they are suitable for use in kitchen and food-preparation areas as well as covered outdoor locations.
More information about Decorative Ceiling Tile products is located on the DCT website.
Decorative Ceiling Tiles' products have been prominently featured in the television broadcast sets of the Emmy® Awards and the American Country Awards. Other creative uses for these decorative tiles include photography backdrops and floors, as well as headboards for beds.
With headquarters in Florida and distributors and installers throughout the United States and select overseas locations, DecorativeCeilingTiles.net is the online leader in the sales of decorative ceiling tiles.