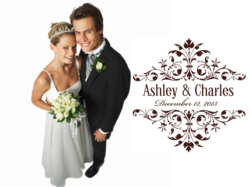 Add the WOW factor to your wedding day with Air Graffiti Dallas
Dallas, Texas (PRWEB) March 01, 2013
These new products created specifically for the wedding market will add to any couple's wedding with unique photography opportunities unlike any other. Using a virtual photo wall, a logo graphic for a wedding can be added to any photo taken on the Air Graffiti Virtual Photo Wall, allowing guests to take customized photos as mementos of a couple's big day complete with digitalized options to create unique photo prints.
Another exciting addition is the Wedding Wishes Wall that allows friends and family to write their well wishes for the newlyweds as a keepsake. The wall can then be used as a backdrop for photography throughout the evening. The couple will then receive a printed copy of the Wedding Wishes Wall that is suitable for framing.
"Since we're approaching the wedding season, it is time for couples to start thinking about ways to offer a wow factor to their wedding reception unlike any other," said Dennis Walthers, founder and owner of Wedding Reception Virtual Photo Wall offered by Air Graffiti Dallas. "It is completely state of the art and a ton of fun, offering ideal entertainment to keep the reception hopping."
To help celebrate the excitement of a wedding reception, couples are able to rent a wedding reception photo wall. This includes an 8-foot by 10 foot Air Graffiti Virtual Photo Wall set up by Air Graffiti Dallas. Using state of the art technology, images can be customized by the couple in advance or Air Graffiti can design a special one for clients.
Wedding planning has turned into a major event as many people are finding ways to create special ways to remember their big day and turn it into an event that is very personal. Air Graffiti Dallas offers this new option in order to reach out to the demand of couples that are about to be married in order to up the fun factor of their wedding day reception.
With over 2 million weddings occurring almost every year, the Wedding Reception Virtual Photo Wall increases the fun factor of an already exciting day and while professional photography is a must at weddings, there is also a need to capture candid moments. This option is also an alternative to party favors.
"Couples that are looking for a unique addition to their wedding reception will without a doubt have more fun with our Wedding Reception Virtual Photo Wall," said Walthers. "Many brides try to bring top notch aspects to their wedding and this tops all other photo booth experiences offered by any other company. Our ability to provide this service is unreal and completely one-of-a-kind."
When celebrating a wedding using the Wedding Reception Virtual Photo Wall, Air Graffiti offers an unlimited number of photo prints available to guests and the happy couple at no additional charge. In addition to the unlimited prints, Air Graffiti also provides props that the newlyweds and their guests can use. There are a variety of digital stamps, stencils and digital spray paint that can add a more creative touch to the photos. Once the photos have been given a digital touch, they are then ready to print.
For more information about the Wedding Reception Virtual Photo Wall and pricing, visit the website at http://www.AirGraffitiDallas.com or call (214) 293-5044.