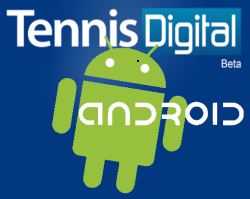 If it happens in tennis, it happens faster in Tennis Livescores Android App. - TennisDigital
Henderson, NV (PRWEB) March 01, 2013
TennisDigital.com has launched a new Android app that gives fans around the world up-to-the minute tennis live scores when it happens. Now for Android, the Tennis live scores app that notifies users of tracked player activity, whether they are at home or on the go.
As a dedicated sporting and recreational website, Tennis Digital specializes in delivering up a daily dose of tennis. To make it better, the android app gives users the option to be notified on their phone of the livescores within 5 minutes of it happening.
A few important screens in the application:
Player Tracker screen - A user can add their favorite players to the list of players they want to keep track of. By default, the server will be checked for any updates every 15 minutes. This frequency setting can be changed in the "settings" screen.
Settings screen - Allows you to choose notifications for player activity. It also allows users to choose the frequency at which to check for updates with the server.
The application is more than just a livescores app for android devices, it has the whole TennisDigital.com website at the user's fingertips. It has all the latest news, schedules, tournament information, TV schedule, players information and more.
This Android app connects viewers with tennis world info that includes Up-to-the-minute Tennis Live Scores for a list of current tournaments playing around the world. Current tournaments are viewable with game status, player head-to-head with live, up-to-the-minute scores. There is even an indicator showing which player is on serve. Recently played tournaments show player names, end of round and final scores.
Tournament Information – See tournament name, location, draws, prize money and upcoming scheduled tournament date.
Players – Enjoy an inside look with photos of current and retired ATP and WTA tennis players and view their profiles with livescores, bio, photo gallery, stats and access to signature tennis gear.
Since this app is in BETA, the expectation is to get feedback from users and improve on the application. Suggestions on improving the app or to report issues, email info(at)tennisdigital(dot)com
Media contact: Tennis Digital, (702) 608-3169, http://tennisdigital.com
Tennis Digital
Las Vegas, Nevada 89052
(702) 608-3169
http://tennisdigital.com
http://m.tennisdigital.com mobile