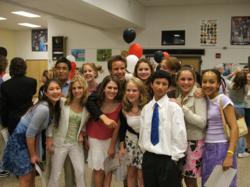 Combining a well-paid position and generous benefits with the allure of travel appeals to teachers, as EO places their 150th teacher.
Washington, DC (PRWEB) March 02, 2013
Educators Overseas, the number one online international teacher recruiting organization in the United States, is moving along at high speed in its continuous goal of matching American teachers with educational positions overseas. Since the placement of their first teacher in 2007 EO has doubled year on year placements culminating in their 150th placement earlier this week in Shenzhen, China with their popular Teach in China program. Educators Overseas' teachers have been placed in advantageous positions, especially in Asia, with countries as diverse as China and Tajikistan among teaching destinations. "The idea is to combine a well-paid position and several benefits with the possibility of traveling, of living in a new country, learning about new cultures and interacting with new people", said Christy Grimste, managing director of EO.
Some of these places are not necessarily on the beaten path, which makes them even more interesting to teach in. Shenzhen is not the first city that one would think about when planning a trip to China, but EO offers several teaching positions in this growing city of Southern China, with numerous attractions nearby.
It is not only about the cultural and tourist aspect of things. "For a passionate educator, it is an entirely new experience to teach abroad", says Grimste. A lot of dedicated teachers are moving abroad to practice their work in a different environment.
What is EO planning for the future? "We will just not stop, there is so much demand for educators overseas that we just want to continue finding teachers to fill those positions", said Grimste. Their model for this seems perfectly poised for the company to continue explosive growth: excellent contacts overseas, a network of educational outlets in countries where demand for educators is high, combined with unparalleled customer service for teachers, even after they sign a contract and move abroad. Their selection process involves a rigorous recruitment of potential candidates for these positions, looking at the person's teaching experience and personality and their interest and ability to live and travel abroad. That said, most teachers on paper at least can qualify to teach abroad, as long as they are native English speakers and have a Bachelor degree.
For more information about Educators Overseas and current teaching jobs, visit them on their website at http://www.educatorsoverseas.com