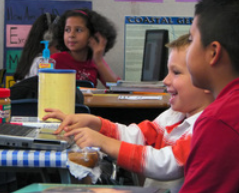 Making mistakes is very important in learning... I do it all the time.
Toronto, ON (PRWEB) March 02, 2013
A steam kettle whistles. The steam activates an electric current causing a beaker of water to heat up and drip onto a turbine, which activates a new current and completes the circuit. Not the usual way to get energy from Point A to Point B, but a creative and compelling way to get to the next level in an online game called Electric Box.
The game, hosted by Candystand.com, was recently added to the Thinking Skills Club, an after school club where in grades 3 through 8 play computer games that help kids develop a variety of cognitive skills. Thinking Skills Club founder Mitch Moldofsky says the game was chosen because it employs logic, the concept of cause and effect, planning and making mistakes in order to win. "Making mistakes is very important in learning," says Moldofsky, an educator and Cognitive Science graduate from the University of Toronto, "I do it all the time."
Moldofsky believes the game encourages the development of executive function skills in the frontal lobes of the brain, based on another executive function training method, Tools of the Mind. "What they've found with Tools of the Mind is that simply modifying activities during the school day to include things like self-reflection, evaluation, planning and trial and error can radically shape a student's approach to activities outside the classroom as well, such as behavior," says Moldofsky. "Games like these encompass all of these skills."
Unlike other brain training games on the web, which Moldofsky claims are often repetitive and boring, the games on the Thinking Skills Club are "fun-tested," since they are culled from gaming sites. "These games are already being played by the kids in this age group, without the coercion of parents or teachers. They're intrinsically rewarding," he says.
There are five other types of games on the Thinking Skills Club aside from executive function, including attention and memory, even social skills. "There's some good new research out there about the effects of prosocial games," says Moldofsky, "and they're not too hard to find if you know where to look."