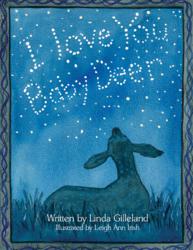 Children will love this sweet little tale. -The San Francisco Book Review.
Dallas, TX (PRWEB) March 26, 2013
Springtime is upon us, and with it comes new life...
Children's book "I Love You Baby Deer" (Brown Books Publishing Group), by Linda Gilleland of Uvalde, Texas, is a great addition to anyone's Easter basket.
Young readers, parents and grandparents alike will enjoy sharing this tender true story about an orphaned baby deer named Pineapple and the little girl named Grace who takes her in.
Follow the adventures of Pineapple and Grace and explore the love, trust and friendship that blossoms between them in this beautifully illustrated story.
Watch Pineapple grow older with her newfound loving family and her best friend, Grace.
Recently featured in the 2013 Golden Globe Awards "Bambi" Celebrity Gift Lounge, "I Love You Baby Deer" has been called "a sweet little tale" by the San Francisco Book Review
Through this personal story, Gilleland introduces young readers to the reality that Grace and Pineapple will eventually have to say good-bye, and teaches them the poignant yet beautiful lesson of parting with someone you love, in order for them to enjoy the life they were meant to live.
Gilleland eloquently conveys the message that this faith in love, kindness, and friendship between people and animals can be carried over into our individual lives, giving all of us many opportunities to make life nicer for someone else.
In the end, "I Love You Baby Deer" proves love conquers all. It crosses all boundaries, speaks all languages and connects all hearts.
Books are available online and in bookstores.
To learn more visit: http://www.ILoveYouBabyDeer.com.
About Brown Books Publishing Group:
Brown Books Publishing Group is an independent Texas-based publisher. To learn more visit: http://www.BrownBooks.com.