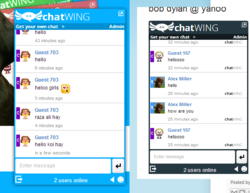 New York, NY (PRWEB) March 01, 2013
Chatwing.com, a company that is known for its efficiency in creating professional website tools, showcased another feature that can change the way users experience website chat. This feature is called chat networks—a simple setup that grants high rate of communication advantage to any chatroom visitor or registered user. The company's developers have indicated that the chat network feature is meant to increase connectivity between chatters, and allow website owners to reach more groups.
The chat network can be accessed in the chatbox dashboard. There, the user can select from the active networks. Currently, the chatroom has five active networks: English, Thai, Turkish, Portuguese, and Spanish. The developers assured that more networks will be added in the coming days or weeks, depending on the influx of users.
Chatwing's premier chat box processes the visitors in real-time. Once a visitor joins, other website owners and users in the network will get to see him. This is useful for website owners who want to find more clients in respective niches. Along with Chatwing's other useful features, the chat network will provide new chances for an individual to send and gather information at a quick pace.
Viral marketing for websites will also become a bit easier with Chatwing's newest feature. Now, the marketers can properly centralize the scope of their client search, granting more opportunities to create leads and subscriber groups. As of now, the Chatwing Team will actively monitor the chat networks and assess feedbacks from clients as much as possible. Updates will also be posted in Chatwing's official Facebook page.
About Chatwing.com
Chatwing.com specializes in the new field of website chat. Over years, the Chatwing team has introduced live chat widget for hundreds and thousands of blogs. The Chatwing application bridges people from many parts of the world, creating global synergy through the Internet. The shout box can be installed in just seconds, and it can be used for varying purposes such as leisure and Internet marketing. It also allows a user to customize the size, color, and name of the widget.