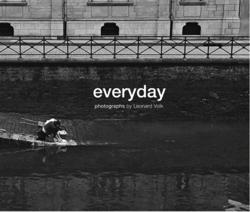 The images are more than visual; they're loaded with content and stories
Dallas, TX (PRWEB) March 28, 2013
Springtime is here! What better time to bring out the camera?
Award-winning photographer Leonard Volk, FAIA emeritus and retired architect of Dallas, Texas, now offers readers a rare glimpse inside his extraordinary collection of photographs and essays from over the past 60 years, in his book "everyday"(Brown Books Publishing Group).
Volk's talent for focusing attention on the exquisite details of everyday life is mesmerizing.
"everyday" spotlights the familiar things usually screened from our attention.
The subjects of Volk's photographs range from household items to common human interactions, scraps of landscapes to urban details—most of which usually go unnoticed.
Amateurs and professional photographers alike will be inspired.
"The images are more than visual; they're loaded with content and stories and evoke emotions rarely projected," says Hal Box, FAIA, former Dean of the School of Architecture, University of Texas at Austin.
"May you enjoy your photographic journey of discovery as much as I have mine," says Volk. "What better time than now to start documenting lifetime memories and enjoy the experience of life behind the lens?"
To learn more about the book or to order copies, please visit http://www.LeonardVolk.com.
About the Author:
Leonard Volk was born in Dallas, Texas, in 1928. He graduated from Phillips Academy at Andover in 1945, from Yale University with a Bachelor of Arts in American Studies in 1949, and from MIT with a Bachelor of Architecture in 1959. Volk served in the U.S. Army Counterintelligence Corps from 1952 to 1955. In addition, he is the recipient of numerous photography awards.
About Brown Books Publishing:
Brown Books Publishing Group is an independent Texas-based publisher. To learn more visit http://www.BrownBooks.com.
# # #