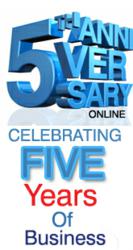 Dan Bohero of SleepBamboo notes that customer word of mouth was a huge influence on SleepBamboo's growth.
Champlain, NY (PRWEB) March 08, 2013
SleepBamboo is celebrating their 5th anniversary with special limited-time pricing on all of their products, including 21 newly launched colors in their luxurious bamboo bath towels collection.
As a special 'thank you' to their loyal customers and social media followers, sleepbamboo is running Facebook and Twitter contests throughout the months of March and April.
SleepBamboo's new ultra soft bamboo towels are heavyweight spa quality 700 GSM towels. They combine 40% Turkish cotton and 60% rayon from bamboo. They also come in 21 dazzling new Pantone colors. They are perfect for sensitive type skin due to bamboo's highly absorbent and hypoallergenic qualities.
Over the last five years SleepBamboo has grown to be one of the worlds largest online sellers of 100% bamboo bed sheets. They were also one of the first eco retailers to introduce bamboo sheets, bath towels and bamboo body care products online.
Isabel Rynes, director of marketing, recalls the days of the initial launch back in 2008 as an anxious and exciting time in the company's short history.
''It was really exciting to introduce and showcase rayon bamboo bed sheets in the early days. People were amazed at the luxurious feel and soft touch of our bamboo sheets. The most common reaction was 'this can't be bamboo, it's so soft!'', she laughingly recalls.
She describes how consumer education of the unique qualities of bamboo bed sheets, like thermal regulation and it's antibacterial properties, was by far SleepBamboo's biggest challenge of all.
"Five years ago people already heard about bamboo flooring and bamboo furniture, but not much about bamboo textiles. Today bamboo bed sheets are displayed in stores alongside fine Egyptian cottons.''
Dan Bohero, of SleepBamboo's sales team, believes that the companies success has been overwhelming considering that bamboo fabric is still in it's infancy. SleepBamboo takes great pride in producing one of the worlds best bedding fabrics, we start by choosing only the best bamboo yarns. For the weave, we have developed the perfect balance in fabric thread count construction, that produces a bedding fabric with maximum drape, using a true sateen weave. Finally finishing the textile with low impact vegetable based pigment dyes that match or surpass industry standards.
Our entire process of making the bamboo fabric is SleepBamboo's ''special sauce'' says Bohero.
In the future look for Sleepbamboo to offer new bamboo products in bedding accessories and bedding sleepwear.
Visit SleepBamboo.com throughout this month for online store promotions. You can also follow SleepBamboo on Twitter @bamboosheets or on their Facebook page.
For product inquires contact: questions@sleepbamboo.com