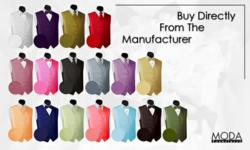 Choosing a wedding tuxedo just got easier.
North Hollywood, CA (PRWEB) March 06, 2013
Recently TuxedosOnline.com, added a great selection of wedding tuxedos, suits and sports coats to their inventory. These new items are perfect for today's new grooms who are looking for clothes that are as unique and stylish as they are, and TuxedosOnline.com has done their research to tell them exactly what is on trend for this wedding season. The award-winning tuxedo manufacturer and retailer, has revolutionized the way the world buys tuxedos by removing the middleman and making beautifully-crafted, stylish tuxedos affordable.
Vrej Grigorian, CEO of TuxedosOnline.com, also owns Gregory's Tuxedo Shop, which has been working first hand with wedding parties and couples for more than thirty years. This has allowed the staff of Gregory's and TuxedosOnline.com to become experts on finding the next big thing in wedding tuxedos that grooms-to-be will love. They have featured their new suits and sport coats, including their new velvet sport coats, at bridal fashion shows, and these designs received an overwhelmingly positive response.
Grooms appreciate that these new styles of suits have the look of a wedding tuxedo, without looking overly formal, and the various colors of velvet coats in particular were very popular, with a great deal of wedding parties requesting them. Because of the slim figure of many men these days, TuxedosOnline.com's research suggests that slim suits and tuxedos are the right fit for wedding season.
In addition to the perfect coat, no outfit is complete without the right accessories. Similar to the latest trends on the red carpet, over 80% of grooms have been wearing bow ties to their special day, as well as 82% wearing various colors of vests. 20 % were wearing suspenders and over 90% wearing various styles of tuxedo shoes. TuxedosOnline.com is known for their low prices on designer wedding tuxedos, and these new styles and accessories are no exception. The research suggests soon-to-be married family men are interested in buying their outfits rather than renting for later uses, an option that TuxedosOnline.com's low prices put well within reach.
About:
TuxedosOnline.com has been named "Best of the Web" by USA: Tuxedos since 2008. The web-based vendor is the internet superstore for men's formalwear tuxedo shirts, tuxedo vests and tuxedo uniforms and is one of the oldest companies to sell tuxedos on the internet. They are highly rated on bizrate.com, eBay, and other internet rating services. Although the tuxedo rental industry has reported declines in the amount of rentals for the past few years, TuxedosOnline.com has grown over 40% a year for the past three years.
For the full range of tuxedos, including wedding tuxedos, accessories, shoes, and shirts, as well as the entire MODA Formalwear line, visit TuxedosOnline.com or call (818) 765-9479 or (888) 968-4TUX. The wedding page can be found at http://www.tuxedosonline.com/wedding_retail.asp