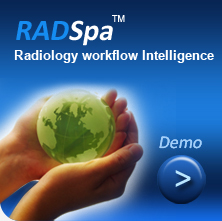 Bangalore, India (PRWEB) March 01, 2013
Telerad Tech, the technology arm of Teleradiology Solutions (rated Best in KLAS 2011) proudly announces its expansion in Africa. RADSpa, a unique cloud based Radiology workflow intelligence system has signed with medical centers in Ethiopia and Zimbabwe this past quarter.
This high end cloud based Teleradiology workflow RADSpa is used to get expert medical opinion from radiology specialists in India and other countries.
According to Mr Ricky Bedi, CEO of Telerad Tech, "There are many realms of medical practice in Africa that are ripe for innovative IT solutions. There is a great need for a system such as RADSpa as it is much more than just a RIS PACS. It is a complete teleradiology workflow-something today's Radiologists increasingly need."
RADSpa now has more than 70 installations worldwide. It embraces cloud computing which means the application can be up and running faster, with easier manageability and less maintenance. It is designed to improve the collaboration between radiologists and overall productivity of the enterprise. It not only reduces operating costs but also eliminates the need for expensive infrastructure and time consuming implementation processes thus improving the bottom line in a healthcare enterprise.
About Telerad Tech
Telerad Tech has been founded by a group of technology innovators and eminent radiologists with the focus to develop products and solutions to address the gaps and needs of Healthcare IT in general, and radiology automation systems in particular. Having partnered with a leading Teleradiology institute and led by technologists with a background in developing and deploying automated solutions, Telerad Tech has the best mix of domain understanding and technology prowess to implement technology solutions to solve the radiology workflow problems. The products are developed, tested and piloted in the radiology eco-system and hence generate the most efficient, radiologist friendly work-flow. Telerad Tech has offices in USA and India
For more information visit http://www.teleradtech.com, email sales(at)teleradtech(dot)com or info(at)teleradtech(dot)com or call +1-763-244-1263 or +91-80-40187500.