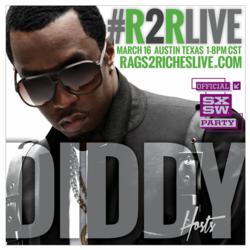 The first 'Rags to Riches' live (R2RLive.com) music event hosted during the South By Southwest Music Festival has added the Grammy Award winning hip-hop artist, Warren G, to the 7-hour music lineup.
Austin, TX (PRWEB) March 01, 2013
The first 'Rags to Riches' live (R2RLive.com) music event hosted during the South By Southwest Music Festival has added the Grammy Award winning hip-hop artist, Warren G, to the 7-hour music lineup. Cinsay and the Recording Artists Guild (RAG) are producing the world's first live streaming social media music event with eCommerce built into the video player. The event will feature Sean "Diddy" Combs as master of ceremonies, A-list celebrities and top musical performances during the March 16th event at Brush Square Park in Austin, Texas.
Talent announced earlier includes Eminem produced pop-hip-hop singer, Skylar Grey, Neo Geo, jazz and blues hit, Larry Gee, and pop sensation, Forever The Sickest Kids (FTSK).
The party will be hosted live and online utilizing Cinsay's patented Smart Store™ technology with expected attendance of 900 guests at the event and hundreds of thousands of online music fans that will be able to watch live performances, purchase band's merchandise and donate to charities throughout the day as well as share the video all over the world.
The 'Rags 2 Riches' event is open to credentialed SXSW ticket holders and the press. Gates open at 1:00 PM CST at the Brush Square Park venue in downtown Austin. Performances also begin at 1:00 PM and end at around 8:00 PM. Over 12 musical artists will perform sets during the live video stream. The event will feature special guests, DJs, SXSW celebrity interviews from 2013 film and interactive sessions and the Cinsay RAGs 2 Riches music contest.
Registration to attend the event and watch online is open at R2RLive.com. Follow news and updates about the event by registering by email and via Twitter hashtag #R2RLIVE.
WHAT: Cinsay/RAG: Rags 2 Riches Live Music Event
WHERE: Brush Square Park, 409 E. 5th Street, Austin, Texas 78701
WHEN: March 16, 2013 @ SXSW – 1:00 PM – 8:00 PM CST.
COST: Free to credentialed SXSW badge holders, invited guests and music wristband holders.
ONLINE: http://www.R2RLive.com
About Cinsay, Inc.
Cinsay has created a next generation social eCommerce, viewer interactive, video-based platform for any individual or size businesses. Cinsay's SaaS based technology enables everyone to sell products, services, capture donations, and generate leads all inside the patented Smart Store™ technology. Additional services available to individuals, SOHO's, enterprises and nonprofits, are Cinsay's complete turnkey business solution via exclusive on demand, made to order merchandise featuring hundreds of personal, brandable products like t-shirts, caps, mugs and iPhone covers available at CinsayOnDemand.com. Now, anyone can be in business within minutes with no inventory whatsoever. Merchants benefit from Cinsay's in-depth reporting tools and real-time statistical data. Cinsay's embeddable platform is compatible with web and mobile devices and is highly scalable via its enterprise-level hosting and distribution networks. Full video production is available through CinsayProductions.com. Cinsay aggregates and promotes merchant stores via its searchable consumer portal, MyCinsay.com. Notable clients include: GameFly, Neiman Marcus, Wet Seal, decompras, and California Closets. Forbes has named Cinsay as one of "America's Most Promising Companies" and by eTail Conferences as a "Rising Star" in innovation for 2012.
About Recording Artists Guild (RAG)
The Recording Artists Guild (RAG) was established in 2009 to promote and protect the interests of all recording artists both professionally, and personally. RAG provides members with important benefits, special discounts, opportunities and access to exclusive networking events, music showcases and workshops. Specific benefits of RAG membership include: providing opportunities for digital distribution on iTunes, Spotify, Amazon and other popular sites along with opportunities for placement, important business, legal, and medical services that are often unavailable to artists, social video eCommerce technology via Cinsay, along with personalized merchandise from Cinsay On Demand. Executive Members have access to top-tier services at immense discounts. Our corporate headquarters is located in the heart of Hollywood at 5825 Sunset Blvd Hollywood, CA 90028.