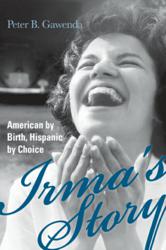 Gawenda does a magnificent job of portraying Hispanic women as positive role models.
Dallas, Texas (PRWEB) March 06, 2013
True story proves loves conquers all.
Author Peter B. Gawenda captivated readers with his first book, "The Children's War: Germany 1939-1949," a personal account of his family's journey through World War II.
Now he thrills once again with his memoir "Irma's Story: American by Birth, Hispanic by Choice," a touching tribute to the love of his life, Irma Lozano de Gawenda.
The "Houston Chronicle's" Robert Becker, veteran journalist and former international wire news editor, calls "Irma's Story" a "rich trove of memories with universal appeal - the power of enduring love."
Written with a passion that has spanned five decades, "Irma's Story" gives readers a rare glimpse inside a once-in-a-lifetime love affair.
"Readers will be captivated by this unlikely relationship between a south Texas woman of Hispanic descent and a German military officer brought together by fate," says Yvonne Freeman, PhD, Professor of Language, Literacy, and Intercultural Studies at the University of Texas at Brownsville.
After World War II, Peter, a handsome German pilot, was assigned to a liaison position with a U.S. Army school stationed in Texas. When Peter met Irma, it was love at first sight.
Their meeting had been prophesied, for Irma by her grandmother and for Peter by a Gypsy.
However, it would take time for Irma to receive her father's blessing to marry, and start leading an extraordinary life with Peter.
"Irma's Story" chronicles Irma's life and the experiences of the "Texan Gawendas" during their tenure in the German military in Europe and the United States.
Through Irma's experiences, Gawenda explores the dynamics of racial issues against a backdrop of military life. While Irma was accepted as an American in Europe, she faced discrimination in her home country and contended with the challenges of being a military wife.
Nevertheless, she set high standards for herself and was revered as a positive role model for Hispanic women; and Peter's love and companionship remained constant throughout her journey.
Gawenda reveals the joys that marriage of two people from completely different worlds can bring, painting a loving portrait from which Irma emerges a fearless, fiercely loyal woman, willing to do anything for her family.
Maria Elena Corbeil, EdD, Assistant Professor of Education and Educational Technology at the University of Texas at Brownsville, says, "'Irma's Story' ensures their legacy will be remembered by all those who knew them, while leaving an imprinted portrayal of Hispanic women as positive role models."
Irma Lozano de Gawenda - Citizen of Many Cultures and Hispanic by Choice - wife, mother, grandmother, professional, and homeowner.
To learn more visit: http://www.PeterGawendaBooks.com
"Irma's Story" and "The Children's War" are available online and in bookstores everywhere.
About the author:
Peter B. Gawenda completed the German Air Force Academy and was commissioned as a lieutenant. He advanced to the rank of lieutenant colonel and became a member of the German General Staff. Spending an administrative assignment in the prestigious Leadership Academy for German and Foreign Military and Civilians, Gawenda was earmarked for high leadership positions in Hamburg. He spent time in France, Holland, and Denmark before he left the German military in 1981, immigrating to Texas with his family. His daughter lives in Dallas, Texas, with her family, and his son lives in Brownsville, Texas, with his family. Gawenda completed his education with a master's in international relations and a doctorate in education. He has formerly served as a vice president at the University of Texas at Brownsville.
About Brown Books Publishing Group:
Brown Books Publishing Group is a Texas-based independent publisher. For more information about the publisher, please go to http://www.BrownBooks.com.
# # #