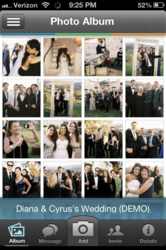 Manhattan Beach, CA (PRWEB) March 04, 2013
Private group and event-based sharing platform, Capsule, today announced an upcoming release to its mobile application for Android and iPhone that will dramatically enhance user experience. The Manhattan Beach startup quickly made a name for itself and its technology after a recent partnership with the #1 resource for weddings, theKnot.com (XO Group). Capsule makes it easy for users to plan events, share and communicate, and preserve memories in a context-rich space.
At a wedding, every photo taken by guests using CapsuleCam or via Instagram with a custom hashtag, instantly syncs to a central, group album or "capsule." Capsule eliminates the fear many couples face that their photos and memories will be lost due to lack of a streamlined collection process. Equipped with a robust feature set that encourages friends to relive their shared experience in its entirety, Capsule allows couples to plan, share, and remember all the events leading up to their big day – easily capturing all the memories in one place.
In addition to group photo-sharing, group text, and group email capabilities, CapsuleCam will now enable users to share content directly with existing social networks. Moreover, CapsuleCam is rolling out a complete redesign to improve its usability. CEO and Co-founder, Cyrus Farudi is enthusiastic about the implications of the upcoming release, "As things go increasingly mobile, including weddings, we are committed to staying ahead of the curve. I am very pleased with how our mobile development is progressing and anticipate a tremendous positive response from our users."
About Capsule
Capsule (http://www.tryCapsule.com) is the easiest way to capture every photo taken at a wedding. CapsuleCam, the mobile app for iPhone and Android, lets guests add photos to a shared, central wedding album instantly with no uploading required. Capsule members can interact, comment, order prints, download high-resolution copies and share to social networks. Unlike other wedding apps Capsule is also designed for all the events surrounding the big day, including the engagement party, bachelor/bachelorette party, bridal shower and honeymoon.
For more information, visit tryCapsule.com or find us on Facebook (facebook.com/tryCapsule), Pinterest (pinterest.com/tryCapsule) or Twitter (twitter.com/tryCapsule).