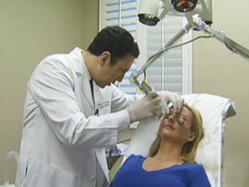 Los Angeles, California (PRWEB) March 01, 2013
According to a February 22, 2013 report in The Guardian (Go to: goo.gl/0zgkQ), celebrities go to extreme lengths to aesthetically and emotionally prepare themselves for the Academy Awards. From Botox treatments to last minute liposuction procedures, those who walk the red carpet refuse to let anything get in the way of looking their best.
"To avoid the panic alluded to in the article," says Dr. Ourian, Medical Director of Epione Beverly Hills, "it's best to have a three month action plan for the Oscars. Furthest out from Oscar night we do the treatments that take the longest for the results to maximize. Botox is best about a week out and on the day of the Oscars we can do a final tightening and lifting with an Ultrasound/RF treatment."
Treatments range from laser skin resurfacing to dermal filler treatments (Radiesse and Juvéderm are top choices) to emergency liposuction. Some nominees diet for weeks to ensure that they will look perfect in their gowns. One top L.A. stylist claims that you can always tell that the Oscars are approaching because it seems like everyone is on the cayenne pepper and lemon juice diet.
The Oscars red carpet may look glamorous to spectators, but preparing for it is almost like a full time job. Stars usually visit the tanning salon days before the Oscars so that their color can settle before the cameras are snapping. They make practice hair appointments weeks or days before that Sunday night to ensure that their hair looks perfect on the big night.
As the evening gets closer, celebrities consult with their doctors about everything from cosmetics to pores. Top cosmetic dermatologists work long hours to ensure that these stars' skin will look great under the microscope of high-definition TV.
In the Guardian report, Oscar nominee Jennifer Lawrence labeled her time on the red carpet as "torture." Regardless of how they feel about the red carpet, all of these celebrities spend countless hours preparing for the big event in big and little ways.
"Looking one's best on Oscar night really is the culmination of executing a plan of action and leaving nothing to chance," says Dr. Ourian. "It truly is the biggest night of the year for some and so nothing can be left to chance."
Dr. Ourian has been a pioneer in laser technology and non-invasive aesthetic procedures including Restylane, Juvéderm, Radiesse and Sculptra. These treatments are used for the correction or reversal of a variety of conditions such as acne, acne scars, skin discoloration, wrinkles, stretch marks, varicose veins, cellulite, and others. More information about celebrity Oscar treatments can be found on Epione's website.