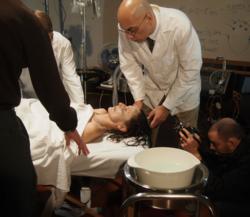 Having a film premier in a theater in San Francisco is a big breakthrough for any filmmaker.
San Francisco, California (PRWEB) March 01, 2013
Since moving from Oakland to San Francisco due to the foreclosure crisis, book and scriptwriter Gini Graham Scott will have two short films premiering at the Castro Theater in San Francisco on March 2. The films, which will be used to pitch the full length feature, were produced with crews from Scary Cow, a film collective. One is The Parking Lot, about a parking lot fight that escalates into attempted murder; the other is Dead No More, about a woman brought back from cryonics suspension.
The Dead No More shoot turned into a real Hollywood By the Bay production that was filmed at the SOMArts Cultural Center with a cast and crew of 30 members, and the filming included a dolly, crane, and even a machine using dry ice to make smoke – and the fire alarm went off two times. They were produced by her company Changemakers Productions.
Gini Graham Scott also just sold her book: Finding Funds for Your Film or TV Project, based on her own experiences in fundraising to Hal Leonard's Limelight Editions to be published in November. The company published her previous book: The Complete Guide to Writing, Producing, and Directing a Low-Budget Short Film, also based on her experiences which has led to writing and producing over 50 short films.
So far Gini Graham Scott has written and produced nearly 50 short videos which are featured on the YouTube channel of her company Changemakers Productions. She also has written her amazing story of surviving and thriving after the mortgage left her with only $500 in her bank account before she managed to sell her house, move to San Francisco, and turn her life around. The book is Living in Limbo: From the End to New Beginnings
Gini Graham Scott is the founder of Changemakers Publishing and Writing and the author of over 50 published books with major companies, as well as 30 books published by her own company Changemakers Publishing. She received a Ph.D. in Sociology from the University of California in Berkeley, a J.D. from the University of San Francisco Law School, and M.A.s in Anthropology, Mass Communications and Organizational/Consumer/Audience Behavior and Popular Culture and Lifestyles at California State University, East Bay. She is getting an additional MS in Recreation and Tourism in 2013. She has spoken about the topics of her books to many groups and the media, including appearances on Good Morning America, Oprah, and CNN.