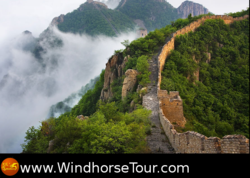 We conducted a thorough client feedback project to gather specific suggestions on how to improve the user experience and help promote the many wonderful destinations within China. - Harley Greenberg
(PRWEB) March 07, 2013
WindhorseTour, a top China travel agency with more than ten years of experience in organizing tours to Tibet as well as Sichuan and Yangtze River cruises updated its website early this month.
The site is designed to help users navigate through tours that best match their travel interests to plan trips quickly and easily. A main redesigned feature includes visually enhanced, larger pictures – many of which were personally taken by the staff and clients from WindhorseTour. Paired with short descriptions, these stunning snapshots offer a direct, visual approach for clients wanting to learn more about China, as well as help travelers choose their preferred destinations and themes.
Specifically, users can get a first-hand peek at the Underground Army of China's first Emperor, glance upon the picturesque Guilin, view the highest Mountain in Sichuan or the Great Wall, and more. If interested travelers are curious to discover what the Three Golden Triangle Cities look like at night, the site offers breathtaking views.
Additionally, WindhorseTour has completely redesigned the Navigation Bar of the Homepage into an interactive menu system. From there, users can choose from the following: Tibet Tours, China Tours, City Tours, Sichuan Tours, Yangtze Cruises, and Travel Guides. When users hover over one category, a drop-down box will show specific tours, attractions, and travel tips related to each category.
The main goal of WindhorseTour's revamped website is to ensure clients can explore the many possible destinations within China while having fun and learning more about various destinations
Harley Greenberg, one of the managers at WindhorseTour, said, "We conducted a thorough client feedback project to gather specific suggestions on how to improve the user experience and help promote the many wonderful destinations within China."
The homepage is also updated with themes including a family focus, as well as activities involving trekking and photography. As a result, these themes can help retrieve users more specific search results, and the newly launched search box can help them find their preferred destinations quickly and easily.
WindhorseTour specializes in creating tailor made experiences based on every client's unique needs and operating groups to all provinces. Please visit http://www.WindhorseTour.com for more information or contact them by phone calls or E-mail.
Email address: news(at)windhorsetour(dot)com
TEL: (+86)-28-85593923, (+86)-28-86254701
Fax: (+86)-28-86254710