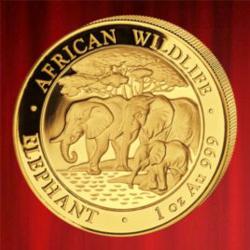 New issues of African bullion coins are always met with high demand.
London, UK (PRWEB UK) 4 March 2013
Three of the coins feature the Somalia Elephant; they have been issued in 2013 as part of the African Wildlife series and are available from Bullion UK as a 1oz gold coin, a 5oz gold coin and a 1oz silver coin, with face values of 1000, 5000 and 100 Somali Shillings respectively. The Somalia Elephant bullion coins are minted by the Mint of Bavaria in Germany and both the gold and the silver have a purity of 999/1000. The first issue in this series appeared in 2004, with a different image of an elephant, or elephants, featuring on the obverse with each annual release. The reverse of these gold and silver bullion coins features the year of issue, the denomination and the coat of arms of the Republic of Somalia.
The 1oz silver Rwanda African Cheetah2013 bullion coin is a highly sought after collector's item. The obverse of the coin depicts the seal of Rwanda, the national symbol which was restyled in 2001 and which is used by the Government. The seal represents the unity of Rwanda and includes the words 'Unity, Work, Patriotism' in the dialect Kinyarwanda. The reverse of this bullion coin, which is the sixth issue in the Rwanda African Wildlife series, features a textured design of the country of Africa with an adult cheetah and her cub. The purity is .999 silver and the face value is 50 Rwanda Francs.
The 2013 Suriname 1oz silver bullion coin is the country's official silver bullion coin, with a face value of 10 Surinamese Dollars. It is minted and guaranteed by the European Central Mint in Amsterdam and has a weight of 1 troy ounce with a purity of .999 silver. Less well known than the Canadian Maple Leaf, American Eagle or Austrian Philharmoniker, the Suriname 1oz silver coin is a popular choice with investors who want to avoid premium prices. It has a simple and beautiful obverse design of the map of Suriname, with the coat of arms of Suriname appearing on the reverse.
New issues of African bullion coins are always met with high demand. Customers wishing to buy gold and silver coins are able to view and buy online at http://www.BullionUk.com or contact the knowledgeable sales team for help and advice.
J R Trading Partners Ltd, Broad Quay House, Prince Street, Bristol, BS1 4DJ, United Kingdom
Telephone 0117 975 8627 Fax 0117 905 8800
VAT # 972204921 COMPANY # 07197157
Notes to editors:
BullionUK offers shipment of orders worldwide and free insured delivery on orders over £2500 to anywhere in the European Union.
Purchases up to the value of £10,000 can be made by Debit or Credit Card; there is no limit for purchases made by bank transfer.