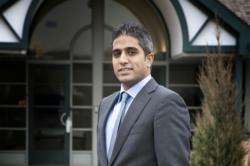 (PRWEB UK) 4 March 2013
Flying in the face of economic turmoil, ID Medical repeatedly features high in the annual ranking of FAST 50 which, through independent research, lists the fastest growing UK recruitment companies. Compiled by Recruiter magazine in association with mergers & acquisitions advisers Boxington Corporate Finance, the annual report proves that with the right approach a company cannot just grow, but do it at a faster rate than ever before.
For the past three years, the UK's leading medical staffing consultancy, ID Medical, has featured top billing in the FAST 50 league. In fact, reported by Recruiter, ID Medical is one of the only seven companies demonstrating strong sustained growth, indicating that fast growth need not necessarily be a one-off phenomenon.
Representation within the healthcare sector in the FAST 50 has halved, with only three medical recruitment companies making the grade. Deenu Patel, managing director at ID Medical commented "Our deep understanding of the NHS and the economic challenges it faces enables ID Medical to emphatically drive efficiencies and savings within the NHS. As a result, the company is recognised as a staffing solutions expert in the industry. Success, evidenced by our consistent high ranking in the FAST 50 league, is testament to our continued investment in people and our methodologies."
"The publication of our ranking arrives as ID Medical extends its local reach into greater London, creating opportunities within the sector and maintaining a steady and continued growth. It's true, our pedal is firmly to the metal."
End
About ID Medical
ID Medical was established in 2002 and has since maintained its enviable position as market leader in the provision of high calibre medical staffing to both the public and private sectors. As the leading provider of locum doctors, nurses and AHPs, ID Medical holds preferred supplier contracts with over 80% of hospitals nationwide. It supplied over 1.3 million hours in 2012.
Founded on its core principles of quality of service, dedication, innovation and 100% commitment, the ID Medical Group provides a complete medical staffing solution to its valued partners. Its services formed part of the NHS procurement, with the ID Medical brand becoming synonymous with quality and dedication to the requirements of its clients and candidates alike.
For further information on ID Medical please contact:
Caryn Cooper
Head of Marketing
ID MEDICAL - ID House - 1 Mill Square - Wolverton Mill South - Milton Keynes - MK12 5ZD
t: +44 (0) 1908 555 498 f: +44 (0)1908 552 825
w: id-medical.com e: caryn.cooper(at)d-medical(dot)com