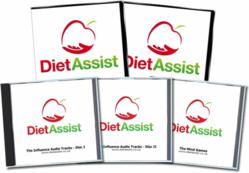 diets become easier to stick to and are ultimately more successful
(PRWEB UK) 1 March 2013
With news this month that two thirds of British adults are obese or overweight, DietAssist releases some top tips on avoiding the most common dieting traps that most people losing weight encounter.
These "5 deadly dieting traps" can undermine all the efforts that people make to lose weight.
Paul Howard, co-creator of the DietAssist programme, says "Most people have the motivation and drive to lose weight. The problem is that the brain's natural tendency is to rebel against any reduction in calorie intake by encouraging automatic eating."
"This natural and normal function of the brain can seem very hard to avoid. However, that is exactly what the DietAssist programme shows you how to do."
The 5 tips cover meal times, grazing, food packaging, emotional eating and thirst. It explains the ramifications of these traps and gives specific ways to avoid them.
Howard continues "When we were developing the DietAssist programme, we looked at the things that trip people up when dieting and used psychological techniques to help remove, overcome or ignore these traps. In doing so, we discovered that diets become easier to stick to and are ultimately more successful."
The tips to avoid these traps seem incredibly simple to do, but DietAssist claim that they can be incredibly powerful in helping people to escape these traps without getting bogged down.
Avoiding the 5 deadly dieting traps is just a small part of the DietAssist programme. DietAssist has techniques to counter all the main psychological barriers that make dieting difficult and cause people to fail. It puts an end to yo-yo dieting by teaching people how to succeed in their weight loss goals and to make behavioural changes that help prevent relapse.
The DietAssist programme aims to completely change the person's relationship with food at an emotional level, without the need for drugs, special diets or costly surgery.
DietAssist strengthens motivation and resolve and creates the optimum psychological state for dieting. DietAssist is available both online and as a CD/DVD set.
The DVDs and CDs are also available separately on Amazon UK.