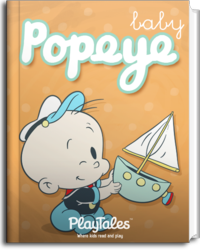 As digital devices have become increasingly pervasive, we are delighted to be able to employ the new technologies to extend the reach of our brands to new, younger audiences.
New York City, New York (PRWEB) March 05, 2013
PlayTales announces the release of two stories featuring Baby Popeye & Friends and Baby Boop; the diminutive versions of the classic cartoon characters Popeye and Betty Boop. The two King Features' titles include interactive animation, original narrations and sound effects, as well as a full cast of the series' most popular characters.
"Popeye and Betty Boop are superstars in the world of licensing," said Ita Golzman, King Features Vice President of North American Licensing. "As digital devices have become increasingly pervasive, we are delighted to be able to employ the new technologies to extend the reach of our brands to new, younger audiences. PlayTales has created a delightful experience for young children to enjoy."
TheToy Industry Association recently released a report on the current retro toy trend at the 110th American International Toy Fair last week stating that many toymakers are going back-to-the-basics by introducing an "abundance of nostalgic, vintage, and classic playthings." The trend has also become apparent in the children's eBook market and PlayTales has made an effort to bulk up its bookshelf with the recent addition of popular cartoon characters like Felix the Cat, Popeye, and Betty Boop.
PlayTales CEO, Enrique Tapias, comments on the release of Baby Popeye and A Day with Baby Boop,
"We [PlayTales Team] grew up watching Popeye and Betty Boop so it's been a real treat bringing these characters to life through interactive eBooks. Our users can now interact with these classic characters in a whole new way. We've recently started seeing a trend in the demand for retro and classic titles and we've made an effort to add more of these types of stories to our mobile apps."
Baby Popeye and A Day with Baby Boop are currently available for both iOS and Android users worldwide. Both titles are available in English, Spanish, French, German, Italian, and Portuguese and can be downloaded through the developer's mobile apps; PlayTales Bookstore and PlayTales Gold Bookstore for iOS users, as well as through their Android app in Google Play.
About PlayTales:
PlayTales is a wholly-owned subsidiary of Genera Interactive, an internationally based multi-platform mobile entertainment and utilities provider with offices in USA, UK, Spain, Romania, and China. Founded in 2010, PlayTales develops and distributes interactive playable storybooks for children within the world's leading children's bookstore. PlayTales applications can be downloaded through the iTunes App Store, Google Play, Amazon.com, Blackberry App World, Intel App Up, and Verizon V-Cast. For more information please visit playtalesbooks.com. Follow us on Twitter @PlayTales.
About King Features Syndicate:
King Features Syndicate is a member of Hearst Entertainment and Syndication Group, which combines Hearst Corporation's cable network partnerships, TV programming activities, newspaper syndication and merchandise licensing operations. King Features is the world's premier distributor of comics, columns, editorial cartoons, puzzles and games, distributing in print and online some 150 features to nearly 5,000 newspapers and other outlets around the globe. It is one of the largest and most experienced organizations in merchandise licensing and entertainment. It represents some of the most recognizable global brands, including Betty Boop, Popeye the Sailor Man and Olive Oyl. For more information, please visit kingfeatures.com. Follow us on Twitter @King_Features.