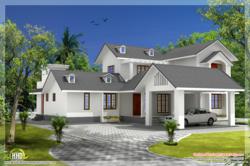 Mortgage Rates Now as Low as 2.62% APR. Get Up to 5 Quotes. Compare Online & Save.
(PRWEB) March 01, 2013
For persons interested in buying a new home or in refinancing an existing mortgage, there is a new game in town. Instead of ferreting out the locations of perhaps a dozen different mortgage brokers and then dealing with a dozen different forms to fill out, it is now possible to discover interested mortgage purveyors in a simple way at MortgageFalcon.com. Click here to visit the website.
The idea is that customers visit this single website that has an extensive list of mortgage providers. Customers are prompted to enter whether they are seeking to refinance an existing mortgage or to obtain funding for the purchase of a new property. Next, they are asked to provide the zipcode for the property which they are interested in. That is all the information required. With the facts provided by the user, the website quickly matches these two simple items of data against a nationwide list of companies that offer mortgages.
Click here to find lowest mortgage rates.
Those companies that provide their services in the specific area designated by the customer are then presented in an easy-to-understand list format. Not only does this save the customer the time involved in creating his own list of companies to contact, but it also winnows out the ones that do not offer the desired mortgage product even if they do operate in the zipcode in question. From this point, the customer can choose which mortgage companies to contact for a detailed mortgage quote.
Unlike previous mortgage company aggregation websites, this one is free to use and does not require the provision of any personal data in order to get the process underway. There is no need to be signed up onto some contact list that inevitably results in an avalanche of e-mail offers for increasingly non-germane products. This website offers the twin benefits of efficiency and confidentiality, and it can be accessed at any time of the day or night.
For those who are interested in a fast, easy way to find out what their mortgage options are, this website offers a new way for customers to find the information they need without having to provide mountains of private information in order to access the information they desire.