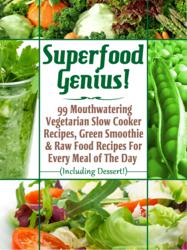 It's easy to forget that the food is healthy, plant based, and packed with powerful superfoods.
Albuquerque, New Mexico (PRWEB) March 01, 2013
It's official – there is no one in the world who hasn't heard about the amazing benefits of superfoods. And while this should be cause for celebration, the world is finally realizing that we can't realistically survive off of processed foods and fats, is anyone actually starting to eat superfoods on a regular basis? Bill Levitt's, a registered nutritionist and self-proclaimed master chef, answer was a resounding "no". But he hopes to change that with the re-release of his best-selling cookbook, Superfood Genius, which gives 99 recipes for breakfast, lunch, dinner, and dessert where multiple superfoods are the main ingredients. The cookbook is being given to customers free of charge today through March 5th as part of a "get healthy for spring" promotion through Little Pearl Publishing.
As a nutritionist, Levitt speaks with people on a daily basis about how and what they should be eating. He realized that there was the false idea floating around, making people believe that the only way to reap the benefits of superfoods is to drink green smoothies, all day, every day. And while Levitt says that green smoothies are an excellent addition to every diet, he also acknowledges that it is unreasonable to believe that normal people will be willing to live off of a liquid diet.
"It just becomes awkward," says Levitt about trying to drink a superfood-loaded smoothie for every meal. "Eating is such a huge part of our social life. You can't go out to eat with friends, invite family over for dinner, or enjoy a romantic evening with your significant other if all you are consuming is a green concoction in a cup."
Levitt's new cookbook is the companion we have needed for the knowledge we are gaining about superfoods. Out of the 99 recipes, only a handful are green smoothies. Maybe most surprising is that all of the meals sound incredibly appetizing, from Cinnamon Streusel Blueberry Muffins to Thai Coconut Soup and Poblano Tacos, it's easy to forget that the food is healthy, plant based, and packed with powerful superfoods. So whether someone is going all in on the superfood craze or are just looking for new healthy meals to prepare for the family, Superfood Genius is a fantastic addition for every kitchen.
Don't miss out on this great deal – swing by Amazon now and get Superfood Genius at no cost!