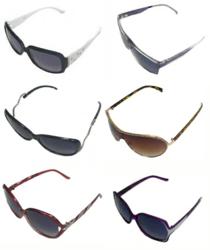 With these sunglasses offered at special prices of $5 and $6, it doesn't cost much to look sharp and glamorous.
Hayward, CA (PRWEB) March 01, 2013
Spring and summer's sunny weather signal many things: less layers, shorter hemlines, and definitely sunglasses. Bella Fashion's new stock of accessories is just in time for the warm season, offering shoppers the style and practicality of sunglasses as the sun comes out of hiding, with over 20 new styles being introduced.
The new line of sunglasses has a wide range of benefits. In addition to being a health professional recommended item for protection from our sun's ultraviolet rays, the sunglasses will earn any wearer major points closer to the visible end of the spectrum: in the area of style. With new products in trendy and fashion-forward designs as well as popular colors, shoppers can take their physical and sartorial health into consideration.
For example, round frames are predicted to be a major trend for spring and summer of 2013. These fashion-forward frames come in a glamorous black and gold at Bella Fashion and work well on narrow faces.
Dolce and Gabbana and Gucci featured plenty of bold sunglasses on the spring and summer runway. The new arrivals in vibrant shades fit this high fashion trend perfectly. For instance, vivid purple frames with white accents will definitely add a pop of summer color to an outfit, as will the new bring red shades with silver accents.
For those who like a geometric touch and angles, Bella Fashion has a range of options. Shoppers can go for a rectangular shape with the new style that features two-tone clear and colored frames and the flat plane bridge that will be in sync with trends. Large yet simple geometric frames are here to stay in terms of style, so shoppers can stay current with the new arrivals of purple sunglasses, which are especially great options for oval or heart shaped faces.
For those with UV rays as a major concern, Bella Fashion's wraparound styles add extra protection by keeping the sun's rays at bay from the sides as well.
The new sunglasses at Bella Fashion offer something for every shopper and will keep fashionistas up to date. What is more, Bella Fashion is offering these new sunglasses, regularly selling at $11.99 to $15.99, at special prices of $5 and $6 for 3 days only starting March 1. So customers with saving and summer on their minds should stock up now.
About Bella Fashion Jewelry Inc.
Bella Fashion Jewelry is a leading provider of fashion jewelry and fashion accessories to help customers stay up to date with the latest fashion trends at affordable prices. Bella Fashion Jewelry has been in the business of fashion jewelry and accessories for over 21 years. Bella Fashion Jewelry, owned and operated out of Hayward, California, now operates at three levels: at retail site, bellafashionjewelry.com, no minimum order amount is set, and pricing is at everyday discounted retail pricing. Free shipping is offered for orders of $30 or more. At bellafashionwholesale.com, 1st and 2nd tier of wholesale pricing are offered, minimum order amount is set at $30, and shoppers are allowed to buy 1 each of each style or color with free shipping for orders of $60 or more. At its newly launched wholesale site, hairbarretteswholesale.com, products are offered in dozen packs, as well as "by the piece". Pricing is at 3rd tier wholesale pricing for the dozen packs.