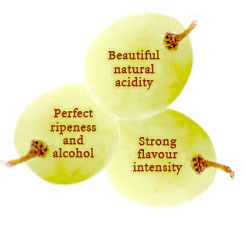 We are proud to support Fairtrade Fortnight with Santa Florentina wines
(PRWEB UK) 1 March 2013
Santa Florentina wines are made by La Riojana, a winery in Argentina's beautiful and remote Famatina Valley, in the province of La Rioja. With some of the highest vineyards in the world at nearly 2000 metres, this is a totally idyllic climate for any grape.
The warm days, cool nights and practically 365 days of sunshine a year, account for such incredible growing conditions. Coupled with the experienced wine making, these wines are unbelievable value for money, and as an added bonus, can help support Fairtrade too.
Fairtrade means prices that always cover the cost of production and allow for sustainable livelihoods, including decent working conditions and regular wages. In this way, the co-operative Fairtrade winery, La Riojana buys its grapes from small, local vineyard owners (typically families) thus guaranteeing them a fair price.
As well as receiving a minimum price for their crops, some organisations that supply Fairtrade products including La Riojana, receive an extra premium that is invested in social or economic development projects.
In this poor region of Argentina, wine is the lifeblood of the local people and over 70 years ago, La Riojana winery was set up to make wine from the harvest of a few hundred small growers working the valleys. Today the group provides employment for over 2000 local families and works closely with them to monitor and improve quality.
The winery reinvests profits in local initiatives to improve the quality of life in the community. To that effect, Corney & Barrow will be supporting a new project to provide school equipment for the children and grandchildren of La Riojana workers.
For over 200 years, Corney & Barrow has been a touchstone of excellence in wine. Today, just as in 1780, the wine merchant is distinguished by its passion and innovative spirit. It has nurtured wonderful relationships with both valued customers and the finest winemakers – estates producing magnificent classic wines, as well as pioneers breaking new ground with contemporary styles. Corney & Barrow has led the way in championing wines that have become internationally renowned and has an unsurpassed portfolio, from bottles offering outstanding value for everyday drinking to en-primeur cases for laying down. The company is honoured to hold two Royal Warrants and is equally proud to have set new standards in service and impartial advice for all its customers. Let Corney & Barrow transport you on a journey of discovery in the fascinating world of wine.