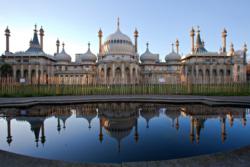 With direct links to the capital and excellent support available for business start-ups, it's little surprise we are seeing such growth in company formations
Brighton, East Sussex (PRWEB UK) 15 March 2013
New research by leading company formation agents, Duport.co.uk shows that Brighton enjoyed record net company growth during 2012.
The research also shows there were a record number of limited company registrations over the year. Between January and December, there were 1847 new companies formed - more than any other year on record for the city and a 6% rise on the previous year.
Brighton has several assets which could be behind the influx of new business in the city. Its direct links to London and healthy tourist industry certainly make it an attractive prospect for start-ups. In addition, there is support available from the local authority in the form of the award-winning "Ride the Wave" scheme. The scheme, according to the website, is "designed to help organisations find firmer footing and take bigger steps forward: to a place where they're resilient in the face of economic uncertainty and geared for growth."
Managing Director of Duport.co.uk, Peter Valaitis commented: "Brighton is a forward-thinking city, at the forefront of the creative and media industries. It also enjoys the benefits of a well-established tourist trade.
"With direct links to the capital and excellent support available for business start-ups, it's little surprise we are seeing such growth in company formations."
The Duport Business Confidence Report for Brighton contains detailed, accurate data that gives an insight into the local business landscape. More information and statistics can be found at http://www.duport.co.uk/brighton.
Duport Business Confidence Reports are generated and released by Duport Associates Ltd. The data contained in these reports is assimilated and analysed by Duport using public record data from sources including Companies House, Office for National Statistics and Ordnance Survey. Duport Associates Ltd is a leading UK company formation agent, established in 1997 and registering around 10,000 new companies each year through its Companies House approved software.