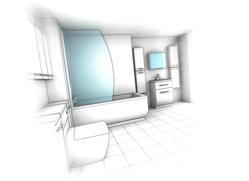 You just don't get that sort of advice on mainstream websites
(PRWEB UK) 6 March 2013
Finding bathroom design ideas online can often be a bit of a mismatched affair.
With the internet filled with lots of wonderful bathroom designs that cost the earth, or blatant sales
pieces for a never ending 60% off sale, one could be forgiven for thinking there wasn't any advice on
affordable yet attractive bathroom design out there.
Luckily, the designers at Dovcor Bathrooms have started their own bathroom design blog after
finding their clients had nowhere to turn when looking for great bathroom ideas.
Unlike other bathroom design blogs, their ideas are gathered from all over the internet after hours
of searching, and they don't feature any of their own products.
When asked why it doesn't promote their own bathroom designs, Will Ryles the author of the blog,
said, "people don't go on the internet to read a piece about how cheap the latest tap is; they want
ideas and inspiration".
He went on to say "if you look at some of the best interior design blogs on the internet they aren't
run by big companies. We wanted to give our blog an open and independent feel while giving
genuinely helpful bathroom design advice along the way. One of our most recent blog posts
discussed how to be creative with a bathroom mirror; you just don't get that sort of advice on
mainstream websites".
Since taking the decision to give some of their best-kept bathroom design secrets away for free on
their blog, the Dovcor website has seen a huge increase in users who love their refreshing approach
to bathrooms.
In fact now that their bathroom design blog is attracting more and more visitors, Will and the team
are planning to convince some of the other great interior designers online to share their bathroom
design secrets too.
When asked why sharing competitors' bathroom designs was a good idea, Will said, "giving people
a helping hand with their bathroom is a great way of engaging with our audience. We took the
decision a long time ago to be passionate about bathrooms, so why should that passion be limited
to just our own designs? At the end of the day, we can't design every bathroom in the UK, but we
can help everyone find a bathroom design they love. Every positive design experience is inspiring,
whether it's our bathroom design or not".
In an age when the internet is quickly becoming a vital part of our everyday lives, seeing a high street
brand make the transition to working online by helping people - rather than shouting about their
prices - certainly is unusual.
Their bathroom design blog is available at http://www.dovcorbathrooms.co.uk/blog.
A family run company established in 2007, Dovcor Bathrooms specialise in bespoke bathroom design
and unique handmade bathroom furniture. To date they have been featured on TV and received a
number of nominations thanks to their unique approach to inspiring customers.
More information about the company is available at http://www.dovcorbathrooms.co.uk.