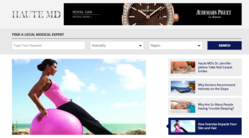 Haute MD brings together the country's most respected and trusted medical specialists. Our readers can feel confident that they are getting advice from the top doctors in their field who are up to date with the most advanced procedures. —Seth Semilof
New York, NY (PRWEB) March 01, 2013
HauteMD.com has unveiled its newly re-designed interactive website, which now features expanded wellness and industry news, a way to get direct medical information from the most trusted professionals and a video section where you can learn about the members themselves and new cutting edge medical information.
Member profile pages are also now featured prominently onto the site, allowing the readers to learn not only about the doctor or surgeon, but also see their opinions on the medical world and how it relates to current events. The network is broken down into not only geographical region, but also by the medical professional's specialty which includes smile, hair, body, nose, face, orthopedic, skin and surgeon.
"Haute MD brings together the country's most respected and trusted medical specialists. Our readers can feel confident that they are getting advice from the top doctors and surgeons in their field who are up to date with the most advanced procedures," says Publisher Seth Semilof. "Our new site is easy to navigate and readers who are looking for expert advice and opinions can get what they need quickly and accurately," added co-Publisher Kamal Hotchandani.
View the site at http://www.hautemd.com.
About the Haute MD
Haute MD connects trusted doctors and specialists with the country's most discerning affluent audience. The network is an exclusive, invite only membership circle with only one representative per market for each of the nine medical specialties.
About the Haute Living Brand
Haute Living Magazine is a national luxury lifestyle magazine published in four markets—New York, Miami, Los Angeles, and San Francisco. Haute Living Magazine features the top entrepreneurs, businesspeople, and notables in each market. Haute Living Magazine also highlights the best in luxury consumer goods, culinary hot spots and events. Haute Living recently redesigned its website and re-launched its Haute Time and Haute 100 websites for state-of-the-art experiences.
For inquiries, please contact:
Renee Lucas
Editor
e: rlucas(at)hauteliving(dot)com