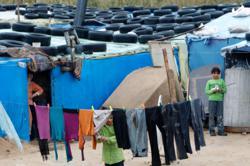 You see them everywhere—stables, barns, crowded apartments and half-finished buildings.
Sarasota, FL (PRWEB) March 01, 2013
International disaster relief organization, ShelterBox, is the first among humanitarian agencies to provide thermally insulated tents to Syrian refugees living in Lebanon's harsh winter weather conditions.
ShelterBox provides humanitarian aid—emergency tented shelter and other supplies, such as stoves, blankets and water filtration systems, among other tools to help families rebuild their lives after losing their homes and possessions following a disaster such as earthquake, volcano, flood, hurricane, cyclone, tsunami or conflict.
With the permission of the Lebanese government, which initially opposed the idea of tented shelter as a solution for refugees, members of the highly-trained ShelterBox Response Team (SRT) have been distributing tents to individual families and to groups of refugees as temporary and transit shelters.
"At first glance [you] may not notice the vast number of refugees here," SRT member, Phil Duloy, said. "When you look closer, you see them everywhere—stables, barns, crowded apartments and half-finished buildings."
ShelterBox's efforts will help mitigate the poor living conditions Syrians have been enduring, like Ziad Mohammad and his wife and children, who living in a makeshift shelter in the corner of a desolate zoo.
According to the United Nations (UN), more than 305,000 Syrian refugees are registered in Lebanon, though officials believe the actual number is closer to 400,000.
ShelterBox was one of the first international relief organizations to respond to the Lebanese government's request for aid back in January, and has been responding to the Syrian refugee crisis since October 2012, after delivering over 500 boxes to families at the Domiz refugee camp in the Kurdistan region of Iraq.
ShelterBox continues to respond to the typhoon in the Philippines, and is assessing the need for aid following conflict in Myanmar.
ABOUT SHELTERBOX USA
Since 2000, ShelterBox has provided shelter, warmth and dignity following more than 200 disasters in over 85 countries. ShelterBox instantly responds to earthquake, volcano, flood, hurricane, cyclone, tsunami or conflict by delivering boxes of aid. Each iconic green ShelterBox contains a disaster relief tent for an extended family, stove, blankets and water filtration system, among other tools for survival. ShelterBox's American affiliate, ShelterBox USA is headquartered in Sarasota, Florida. Individual tax-deductible donations to ShelterBox USA can be made at http://www.shelterboxusa.org, 941-907-6036 or via text message by sending SHELTER to 20222 for a one-time $10 donation.
# # #