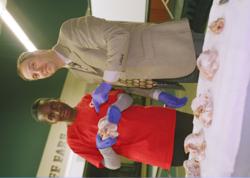 YOUNGSTOWN, Ohio (PRWEB) March 05, 2013
Registration for the 10th Annual Woman's Heart Day, a free health and wellness extravaganza provided by Humility of Mary Health Partners, opens April 1.
Provided as a service to the community, Woman's Heart Day will take place from 6:30 a.m. to 2 p.m. Thursday, May 9, at the Covelli Centre. This annual event features free health screenings, fitness demonstrations, educational presentations on a variety of women's health issues, cooking demonstrations, spa services, refreshments and giveaways.
Among the health screenings offered this year are bone density, lipid panel (cholesterol) and A1c testing, blood pressure readings, vision screenings, stroke risk and skin cancer risk assessments.
Registration is required and appointments for bone density, lipid panel and A1c testing are limited.
For information or to register, call the HMHP Healthline at 330.480.3151 or 1.877.700.4647.
About Humility of Mary Health Partners:
Humility of Mary Health Partners is an integrated health system located in the Youngstown/Warren area. It is a region of Catholic Health Partners (CHP) in Cincinnati, the largest health system in Ohio and one of the largest Catholic health systems in the United States. HMHP provides a full spectrum of health care services, including inpatient, outpatient, emergency, urgent care, home care and long-term care. Members are St. Elizabeth Health Center, St. Joseph Health Center, St. Elizabeth Boardman Health Center, HM Home Health Services, The Assumption Village, Humility House, Hospice of the Valley and Laurel Lake. Learn more about HMHP online at http://www.HMpartners.org.