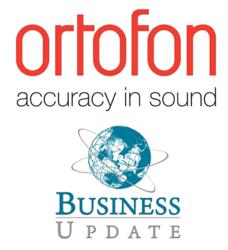 Ossining, NY (PRWEB) March 04, 2013
Ortofon, the world's leading specialist and a developer of acclaimed HiFi phono cartridges, DJ phono cartridges, tonearms, and high-end audio cables, announced today that they will be featured in an upcoming episode of Business Update.
With a strong audio background and determination to use the latest technology in research, development, and manufacturing processes, Ortofon is a small company with a long history.
In this episode, Business Update will inform audiences that analog audio is still very much alive. Viewers will learn about Ortofon's research and development team who are devoted in phonograph cartridge production, and will be educated on the science used in engineering different types of cartridges.
"I'm very pleased that we at Ortofon have been given the opportunity to share with viewers the science, complexity, and art of cartridge manufacturing process, while also, introducing our factory in Denmark, where we will reveal the integration of artisan style craftsmanship with advanced technology," said Dee Hustinova, General Manager of Ortofon, Inc.
Ortofon DJ cartridges, styli, and headphones are applauded by DJs, musicians, and discerning listeners alike. Delivering highly accurate sound reproduction, Ortofon Concorde and OM cartridges are the DJ community's favorite choice.
"This segment on analog audio is sure to captivate our audiences as they learn about how Ortofon is perfecting phonograph cartridge production through their dedicated research and development," said Chad Densen, Executive Producer for the series. "I'm excited to be able to bring this information to our audience."
About Ortofon:
Ortofon is a small Danish company with 95 year history in audio industry from creation of technology allowing synchronized movie soundtracks, producing record mastering equipment, phonograph cartridges to developments of new generation bone conductors. As a pioneer in audio field Ortofon continuously seeks to explore new technologies and implementation not only in sound playback but also in medical industry such as hearing aid devices.
For more information, visit: http://www.ortofon.com or (914) 762-8646.
About Business Update:
Business Update is a corporate-America type series covering the world of business, finance and technology. From Main Street to Wall Street, our award-winning producers take an in-depth look into some of the hottest topics and current trends impacting our society.
For more information visit http://www.dmgproductions.org or call (866) 496-4065.
About DMG Productions:
The DMG production team consists of producers, cameraman and editors that have worked for CNN, TLC, Discovery, and other major news and cable networks. Our staff includes personnel specialized in various fields from agriculture to medicine, independent films to regional news. Our field producers utilize the core concepts from our producers who storyboard our programs, and work closely with experts in the field to develop the educational programs. This powerful force enables us to consistently produce commercial-free, educational programming that both viewers and networks depend on.
Media Contact:
Chad Densen, Executive Producer
(866) 496-4065 X 801
Chad(at)dmgproductions(dot)org