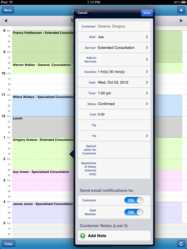 Scottsdale, AZ (PRWEB) March 04, 2013
Accessing and managing their Appointment-Plus online scheduler just got easier for academic advisors, financial aid administrators, tutors, professors and faculty at hundreds of universities, colleges, community colleges and technical schools nationwide, thanks to mobile scheduling apps for their Apple and Android smartphones and tablets. In fact, Appointment-Plus is seeing an increase in the number of educators and administrative staff who are downloading the app to their mobile devices for instant on-the-go scheduling from anywhere and at anytime.
As users of the Appointment-Plus university scheduling software system, they have already automated and improved their scheduling processes by allowing students to conveniently book their appointments online, 24 hours a day; reduced "no-shows" through automated e-mail and text message reminders; and efficiently managed student appointment details through the system's robust reporting and recordkeeping functionality. Now, they can instantly access and manage their appointment schedules and student details with just a click.
Available free to all Appointment-Plus clients, the mobile scheduling apps provide:

A clean and easy-to-navigate user interface.
An icon on your mobile device for easy and instant access to your scheduler.
Functionality to instantly add, change and cancel appointments.
Functionality to add and update customer information.
Filter appointment data by staff or location.
Daily, monthly and list views.
Multiple Appointments Per Time Slot (MAPTS) compatible.
Both mobile scheduling apps are "native", which are faster and more functional than the more common mobile web apps. The apps are available free to current Appointment-Plus and can be downloaded from The App Store (Apple devices) and the Google Play Store (Android devices).
To learn more about Appointment-Plus and how it can improve your student-scheduling processes, click here.
About Appointment-Plus: Launched in 2001, Appointment-Plus was the industry pioneer in online scheduling software, utilizing the software-as-a-service (SaaS) business model since its inception. Today, Appointment-Plus is the worldwide leader in mobile and online appointment scheduling software with three million appointments booked every month and nearly a billion dollars in commerce conducted annually through its system. Its Scheduling Cloud™ API also enables larger organizations to build custom applications on the powerful Appointment-Plus engine, while its integrated Marketplace allows businesses to easily interface with Microsoft Outlook Calendar, Google Calendar, Constant Contact, QuickBooks and other popular business tools to help businesses and organizations manage their operations more effectively, productively and successfully.