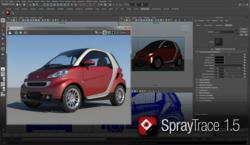 SprayTrace lets me see a complex image in seconds, so I can tweak the final look right in camera, simplifying my workflow and saving me hours.
London, UK (PRWEB UK) 5 March 2013
Holomatix announce the immediate availability of SprayTrace version 1.5 for Autodesk Maya on Windows and Mac OS X. The SprayTrace plug-in for Maya provides a real-time progressive preview for mental ray scenes. With a single button press, SprayTrace launches a live connection to Maya, providing users with the ability to make informed decisions throughout the materials, texturing and lighting process.
New Features in SprayTrace 1.5 include:

Faster Render Engine – SprayTrace is even faster than before with more scene properties now updating in an instant.
Render Snapshot Buffer - Keep and compare test shots and save the stack of snapshots to disk with a single click.
Instant Final Gathering - New smoothed final gathering provides fast high quality images at low sample levels. For example, using mental ray physical sky and sun, users get instant feedback whilst positioning the sun, including the live final gather results.
Material Overrides - Replace scene materials with clay or plastic. Material overrides help in understanding the lighting within the scene without the complication of interacting with the final scene materials.
Lighting Overrides - Override the lights to use SprayTrace as a superior viewport, to do texturing work for example, but with results that will match the final mental ray mapping.
Todd Pilger, Head of 3D Visual Development, Sony Pictures Animation says "SprayTrace has changed the way I approach character design for the better. Because the feedback is instant I am free to explore and iterate without interrupting the design process watching the wait cursor. SprayTrace lets me see a complex image in seconds, so I can tweak the final look right in camera, simplifying my workflow and saving me hours."
Compatibility
SprayTrace uses CPU only, no special graphics card or drivers are required. SprayTrace is compatible with Autodesk Maya versions 2008 upwards and supports virtually all mental ray and MentalCore shaders.
Pricing and Availability
SprayTrace is available immediately for £299 plus VAT. Purchase online at the SprayTrace secure web shop. Existing SprayTrace customers can download the latest installers from their store account today.
About Holomatix Ltd
Holomatix Ltd is an authorized Autodesk developer that released Rendition, the progressive renderer in 2006 to provide real-time feedback functionality to Maya artists. SprayTrace is the evolution of this pioneering product, concentrating on interactive preview rendering for mental ray.
SprayTrace is a trademark of Holomatix Limited. All other brand names, product names, or trademarks belong to their respective holders.