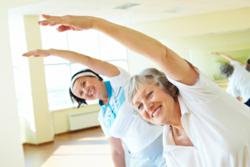 Cognitive decline is a main concern in aging. The study shows that 4 months of physical activity could not improve cognitive function. Brain training alone or combined, however, could.
New York, NY (PRWEB) March 06, 2013
CogniFit, a leading developer of scientific brain training and online brain fitness, announces the publication of a new peer-reviewed article in Frontiers in Aging Neuroscience. The article "Does combined cognitive training and physical activity training enhance cognitive abilities more than either alone?" demonstrates that CogniFit brain training activities improved cognitive function in healthy older adults aged 65 to 90 years whereas physical and aerobic activity did not bring about any cognitive improvements. Even when combining both physical and cognitive training, the physical activity part did not bring any cognitive improvement by itself.
The study was conducted at the Lakeview retirement community in Kansas, United States. Four groups of healthy older adults embarked on a four-month cognitive and/or mild aerobic training. A first group engaged in cognitive training, a second in physical activity which included mild aerobic training, a third in the combination of both and a fourth control group engaged in a book-reading activity. The brain training program used by the community was developed by CogniFit. The link to the published article can be found here.
The results indicate that, when compared to older adults who did not engage in cognitive training, older adults who engaged in cognitive training showed significant improvement in cognitive performance on various cognitive abilities such as eye-hand coordination, working memory, long-term memory and speed of information processing. Individuals who did not engage in cognitive training showed no improvements.
Those results show that CogniFit brain training, but not mild aerobic physical activity, is effective in improving cognitive performance in this elderly population and that, even in the aerobic training and brain training combined condition, it is the brain fitness program that drives the improvement.
Dr. Evelyn Shatil, Head of Cognitive Science at CogniFit and lead author of the study explains: "Cognitive decline is a main concern in aging. The study shows that 4 months of physical activity could not improve cognitive function. Brain training alone or combined, however, could. In four months we observed important cognitive benefits in the groups that engaged in brain fitness. So, these results offer not only hope, but a real solution for all individuals who want to improve cognitive function but cannot engage in strenuous or even in mild aerobic activity. For example individuals with mobility problems, frail individuals, hospitalized patients or even just individuals who cannot find the time or the energy. They can relax in front of their computer and play the CogniFit games. Not only is it a scientifically proven solution, it is also fun, safe and inexpensive."
Up to now, research in neuroscience had shown that cognitive training and physical exercise were the only proven ways to improve cognitive function. Most of those past studies, however, focused on younger populations. In reality, older subjects cannot cope with strenuous physical activity and require milder aerobic training. The present study shows that this type of milder physical training cannot improve cognitive abilities. In addition, some past studies have shown that at least one full year of aerobic training is required before a cognitive improvement can be achieved. These new results, which show that only four months of brain training are sufficient to obtain significant cognitive gains, designate cognitive training as the most effective tool known to science by which healthy older adults may improve cognition.
Despite the main results in this investigation (that aerobic activity did not improve cognitive function), one must emphasize the extreme necessity of physical activity for the elderly. Research on older adults is unanimous in linking physical activity to several physiological and neurological gains. Research also confers that physical activity is an important protective and regenerative defense against cognitive decline. A sedentary life and one of physical immobility would prove detrimental to a person's health, regardless of whether that person engaged in cognitive training.
About CogniFit
CogniFit is a leading developer of online brain training programs that enable people to discover and improve themselves.
Founded in 1999, CogniFit has developed a unique and patented technology that allows consumers to assess and train their cognitive skills and abilities to improve their quality of life. CogniFit is headquartered in New York City with branches in Europe.
The CogniFit online brain training platform is available in more than 55 countries and in 10 different languages including English, Spanish, French, Italian, German, Brazilian, Portuguese, Dutch, Arabic and Japanese. The CogniFit brain exercises are also available on the iPhone and iPad. The CogniFit platform is free to use.
For additional information, contact the PR department at media(at)cognifit(dot)com