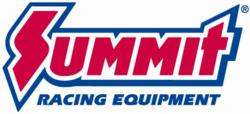 Tallmadge, OH (PRWEB) March 01, 2013
Airaid U-Build-It Airboxes for 1967-69 Camaro/Firebird
Part of Airaid's exclusive U-Build-It (UBI) system, the airboxes can be mounted away from engine heat and connected directly to the carburetor with Airaid's intake tubes (sold separately). The result is a cold air intake that improves combustion while building horsepower and torque. They feature high-flow red filter elements that provide excellent filtration without restricting airflow.
Product Link: http://www.summitracing.com/search/product-line/airaid-performance-airboxes?autoview=SKU&keyword=Airaid%20Airboxes
Kooks Long Tube LS Swap Headers for Nova and Chevelle
Made from 18-gauge 304 stainless steel, these full-length long tube headers are designed to scavenge as much horsepower from an LS engine as possible. They bolt right up with no clearance or fitment issues, and have two-bolt, three-inch collectors for easy hookup to an aftermarket exhaust system.
KOK-6451-S Headers for 1968-74 Chevy Nova with LS
KOK-6450-S-0711 Headers for 1964-72 Chevy Chevelle with LS
DEI Boom Mat Moldable Noise Barriers
These 1/16 inch thick mats effectively reduce engine and road noise, making the driving experience more enjoyable. The mats can be custom-molded with a heat gun to fit the contour of complex floor pans and are easily removed for service. They are flexible enough to fit in tight areas and can be trimmed down for specific applications.
Product Link: http://www.summitracing.com/search/brand/design-engineering-dei/product-line/dei-boom-mat-moldable-noise-barriers?autoview=SKU
Summit Racing Equipment
SummitRacing.com
1-800-230-3030