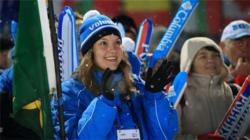 Not only did we pick candidates, but we also created a volunteer selection, preparation and training system that is unique to Russia and which will definitely become an important part of our Olympic legacy
(PRWEB) March 01, 2013
The Sochi 2014 Organizing Committee has announced that the application process to volunteer at the 2014 Games in Sochi has closed. The submission process began on 7th February 2012, via the official website http://www.vol.sochi2014.com. The Sochi 2014 Volunteer Program turned out to be successful, with approximately 200,000 applications submitted from those wanting to make their mark on Olympic history. There were approximately eight applicants for each volunteer position available.
About 21,000 applications have come from 101 foreign countries – the most active were Great Britain, USA and Canada (more than 2000 applications from each of these countries).
The majority of submissions came from individuals between the ages of 17 to 22. Elderly volunteers (over 55) also expressed their desire to work at the Games in Sochi, entering approximately 3,000 applications. Games Organizers received entries from across the whole Russia but particularly the Krasnodar region, Moscow and the Moscow district and Saint Petersburg saw the highest number of applicants. Applications were submitted by both sexes; 65.5% of applicants were women and 34.5% were men.
The most desired positions were: Event Services, Transport, Sport, Ceremonies and Language Services. The training of volunteers will occur throughout Russia, commencing on the 11th of March.
The main job of accepting and processing applications fell to the Sochi 2014 Organizing Committee's 26 Volunteer Centers, located in 17 cities across Russia. Despite the large inflow of applications, all of the centers effectively processed the applications, and are now ready to conduct a unique, innovative training program on their grounds for all Games volunteers who passed the complex selection process.
During the 2012-13 season, 5,000 of the future 2014 Games volunteers will acquire work experience at the Test Events that are currently being organized with the support of the Sochi 2014 Organizing Committee.
The volunteers will work over 50,000 shifts and will be among the first to see the Olympic slopes and stadiums. They will also gain a unique insight into what it will be like during the Games. They will then pass this onto other volunteers at the 26 Volunteer Centers around the country.
The President of the Sochi 2014 Organizing Committee, Dmitry Chernyshenko, noted:
"The volunteer selection program helped us as Games organizers to resolve an issue literally of a national scale by giving a powerful push to the development of the Volunteer Movement in Russia. Even today it has reached a new level, and has encouraged people to apply to become volunteers. Not only did we pick candidates, but we also created a volunteer selection, preparation and training system that is unique to Russia and which will definitely become an important part of our Olympic legacy. I am sure that the 2014 Games will encourage volunteer activity amongst Russia's residents in the future."
Elderly volunteer Tamara Dolgushevskaya, Saint Petersburg:
"Volunteer work gives me an opportunity to realize my dream of helping other people. I don't just give a lot to this work, but I get a lot from it, too. At the Games in London, I formed new friendships, I saw how people live in other cities and even in another country, and I got to know their culture's customs and characteristics. Since then, as I work as a Sochi 2014 volunteer, I don't have to get bored - I get to share my experiences with other volunteers of my age"
Volunteer Ksenia Fedorova, Moscow:
"I have been volunteering for more than 10 years, and the opportunity to see how major sport competitions are organized and staged is an invaluable experience. Learning and interacting with Olympic and Paralympic champions show that anything is possible if you persevere toward your goal."
Volunteer Tatiana Khamanova, Zelenograd:
"Thanks to the Sochi 2014 volunteer program, I visited the Paralympic Games in London, where I experienced a true sense of unity with other volunteers. It opened up an opportunity to associate with athletes and people who, like me, value and understand what volunteer activity is all about. It is an honor to take part in the preparations for the Sochi 2014 Games.
The training program for the Olympic volunteers is one of the Sochi 2014 Organizing Committee's largest projects. An estimated 25,000 volunteers will be involved during the Games in Sochi in more than 20 activity areas, from meeting delegations at the airport to helping organize the Closing Ceremony of the Games. Moreover, approximately 3,000 volunteers trained in the city of Sochi will help visitors find their way between the venues, and provide a warm and friendly welcome to the city. In total, volunteers are going to account for more than 30% of total staff numbers at the Games.
Volunteer recruitment is being handled by 26 Volunteer Centers, established at Russian higher education institutions selected via a competition.
Anyone can become a volunteer, provided that on January 6, 2014, they are aged between 18 and 80.