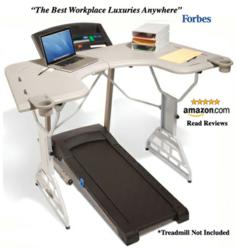 The evidence is overwhelming that the human body needs physical movement to achieve optimal health.
Scottsdale, AZ (PRWEB) March 04, 2013
Scientists have confirmed in a new study that men who remain seated for more than four hours a day are at a much greater risk of contracting severe chronic illnesses such as cancer and/or diabetes. More than 80% of occupations in the U.S. are sedentary and this inactivity is jeopardizing the health of millions of workers daily. One potential solution to this inactivity is the TrekDesk Treadmill Desk that allows employees to move slowly throughout the day while completing their work.
The study (published recently in the International Journal of Behavioral Nutrition and Physical Activity) was led by Professor Richard Rosenkranz of Kansas State University researching the health of 63,048 men between the ages of 45 and 65 living in New South Wales, Australia. The research team divided the study population into groups based upon the reported number of hours they sat each day. In keeping with numerous studies into the effects of sedentary lifestyles on health those individuals who sat for four or more hours per day had a significantly increased risk of severe illness than those who sat for less than four hours each day.
Professor Rosenkranz echoed the concerns of many scientists studying the effects of sedentary office environments on the health of employees, ""Office jobs that require long periods of sitting may be hazardous to your health because of low levels of energy expenditure." While the researchers added their study could not definitively state that extended periods of sitting led to the diseases or whether the diseases led to extended sedentary behaviors numerous studies have shown the direct link between inactivity and disease even among physically active study participants.
"The evidence is overwhelming that the human body needs physical movement to achieve optimal health, stated Steve Bordley, CEO of TrekDesk Treadmill Desk. " The coal mine has already fallen on the canary, the question is how are we going to respond to protect our health?"
Designed to fit any existing treadmill, TrekDesk treadmill desk is an affordable, full sized, height adjustable workstation that allows individuals the opportunity to gain the necessary amount of exercise daily to maintain health, reduce stress, prevent disease, strengthen muscles, boost mood and productivity, without requiring additional time during the day or extra motivation. Wondering how to workout at work? TrekDesk treadmill desk offers the solution.
Join the TrekDesk "Movement Revolution" to learn more, spread the gospel regarding movement, or win a free TrekDesk http://www.facebook.com/trekdesk, or follow TrekDesk on twitter http://www.twitter.com/trekdesk. TrekDesk treadmill desk is currently available for sale online at http://www.trekdesk.com.