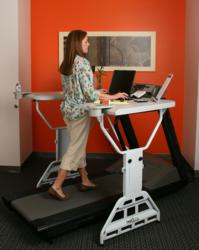 We are learning that total daily inactivity in excess of 90 minutes has a proven detrimental impact on the health of employees.
Scottsdale, AZ (PRWEB) March 05, 2013
On the heels of studies alerting employers to the increased risk of Type 2 diabetes faced by employees forced to sit all day at an desk comes research showing less time sitting and more time moving may be more important than vigorous exercise in reducing an employee's risk of developing Type 2 diabetes. The challenge for executives is designing office environments that encourage more employee movement. TrekDesk Treadmill Desk offers a unique solution to the problem.
New research just published in the European journal Diabetologia suggests that employees should be advised to limit the amount of inactivity in favor of remaining upright and moving as much as possible. The current recommendation for at risk individuals is 150 minutes of moderate to vigorous physical activity (MVPA) to prevent onset of Type 2 diabetes and other health conditions. The new research suggests that continual movement, and reducing sitting time to no more than 90 minutes total per day would foster a more beneficial outcome.
The research, conducted by Joseph Henson and colleagues from the Diabetes Research Unit at the University of Leicester, incorporated results from two studies (Project Stand and Walking Away from Diabetes). The team analyzed the cardio-metabolic risk factors associated with sedentary time, interval breaks, and total physical activity to determine their associative cardio-metabolic risk factors among a population with measurable risk factors for type 2 diabetes.
The study found that sedentary time was detrimentally associated with HDL-cholesterol, 2 h glucose, and triacylglycerol, independent of measured confounders. The findings remained consistent across age ranges from young to old, adiposity and after further adjustment to MVPA.
Dr. Henson summarized the findings, Diabetes and cardiovascular prevention programs concentrating solely on MVPA may overlook an area that is of fundamental importance to cardio-metabolic health. Along with messages related to accumulating at least 150 min/week of MVPA, which form the cornerstone of diabetes prevention programs, such interventions may be more effective still if individuals are further encouraged to simply sit less and move more, regardless of the intensity level."
"We are learning that total daily inactivity in excess of 90 minutes has a proven detrimental impact on the health of employees," stated Steve Bordley, CEO of TrekDesk Treadmill Desk, "yet for most employees living in a metropolitan area that 90 minutes is exceeded in their daily commute. Employee's health cannot afford to be seated at an office desk, plain and simple."
Designed to fit any existing treadmill, TrekDesk treadmill desk is an affordable, full sized, height adjustable workstation that allows individuals the opportunity to gain the necessary amount of exercise daily to maintain health, reduce stress, prevent disease, strengthen muscles, boost mood and productivity, without requiring additional time during the day or extra motivation. Wondering how to workout at work? TrekDesk treadmill desk offers the solution.
Join the TrekDesk "Movement Revolution" to learn more, spread the gospel regarding movement, or win a free TrekDesk http://www.facebook.com/trekdesk, or follow TrekDesk on twitter http://www.twitter.com/trekdesk. TrekDesk treadmill desk is currently available for sale online at http://www.trekdesk.com.