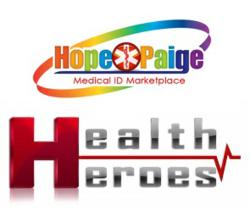 West Conshohocken, PA (PRWEB) March 05, 2013
Hope Paige Designs, renowned designers of contemporary medical emergency bracelets, announced today that they will be featured in an upcoming episode of Health Heroes.
Founded in December of 2003, Hope Paige has grown dramatically since its inception. The company started out by designing a bracelet for a 16 year old with Type 1 diabetes who did not like any of the bracelets on the market; Hope Paige had a vision. It was this vision that led to the development of thousands of styles throughout the years.
This episode of Health Heroes will explore how Hope Paige mixes fashion and style with function and purpose, while examining how Hope Paige makes their line of fashionable medical emergency bracelets.
"We were flattered to be approached by Health Heroes and included in one of their segments. So much of what we do is about education and empowering people with medical conditions, this was a natural fit," said Hope Paige CEO, Shelly Fisher.
The company is committed to helping people protect themselves without feeling branded by their conditions.
"Hope Paige is on a mission to combine both fashion and function in medical ID accessories," said Michele Nehls, producer for the Health Heroes series. "You don't have to have a medical ailment to wear a medical ID bracelet. It's just nice to have that piece of mind in case something out of the ordinary happens."
About Hope Paige:
Founded over a decade ago, Hope Paige took an interest in supporting the fight against breast cancer, and quickly branched out to help other organizations in their commitment to raise awareness. Some of the charity partners include The Ronald McDonald House Charities, The Juvenile Diabetes Research Foundation, Kids with Food Allergies, and The College Diabetes Network to name a few. Hope Paige products and brochures can be found across the United States in doctors' offices, pharmacies, super markets, jewelry stores, specialty boutiques and online. A partial list of retailers include: Kroger, Wal-Mart, Walgreens, Albertsons, Stop-N-Shop, Rite-Aid, Giant, Bashas, Bi-Lo, Kerr Drug, A&P, Medicine Chest, Brookshire, Amazon, Target, Martin's Family Pharmacy, and Price Chopper.
For more information, visit http://www.hopepaige.com or call (610) 234-0093.
About Health Heroes:
Health Heroes is a powerful TV series dedicated to defining and exploring today's latest medical advances in all areas of health and wellness. Written with both the industry professional and television audience in mind, Health Heroes educates, entertains and enlightens the lives of our viewers.
For more information visit: http://www.dmgproductions.org or call (866) 496-4065.
About DMG Productions:
The DMG production team consists of producers, cameramen and editors that have worked for CNN, TLC, Discovery, and other major news and cable networks. Our staff includes personnel specialized in various fields from agriculture to medicine, independent films to regional news. Our field producers utilize the core concepts from our producers who storyboard our programs, and work closely with experts in the field to develop the educational programs. This powerful force enables us to consistently produce commercial-free, educational programming that both viewers and networks depend on.
Media Contact:
Michele Nehls, Executive Producer
(866) 496-4065 x 822