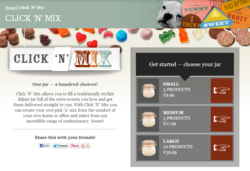 Send your loved ones a jar of memories, in three easy clicks.
(PRWEB UK) 7 March 2013
Pick N Mix lovers
Just when everyone is thinking about what they should be giving up for Lent, The Gobstopper is fighting back. Don't abandon retro sweets, they say, instead make it even easier to enjoy the little pleasures in life, all whilst taking a stroll down memory lane. The Gobstopper now offers the retro 'Click N Mix' experience from the comfort of home.
Best of the yesteryear
The Gobstopper aims to mimic the pick 'n' mix experience of yesteryear without ever having the disappointment of the bags running out, or the uncertain fear of just how much the bulging bag of treats is actually going to weigh, as pockets are emptied whilst searching for an extra 20p. In an age where time is so precious, and everyone is connected digitally, this new function from The Gobstopper strives to ensure that nobody misses out on old fashioned sweet treats.
Retro Sweets for my sweet
With Mother's Day and Easter fast approaching The Gobstopper have timed this launch perfectly and sweet gifts have never looked so appetizing. Customers can now send loved ones a jar of memories, in three easy clicks. Pick a jar size and enjoy the shopping experience remembering those little treats that sparked such great memories from childhood. Did a first kiss start with a gobstopper, did he miss the bus all for the lure of a quarter of pear drops at the local shop or was a detention handed out for throwing flying saucers to friends in class? Whatever the memory, The Gobstopper looks to take a retro Romeo and his sweet back to their carefree days.
Model Behaviour
If the pull of the vast collection of retro sweets and ease of functionality wasn't enough, The Gobstopper prove their look is pretty tasty too. As the only sweet shop to be voted for website of the day by Pocket-lint in 2012 for its outstanding retro design, if vintage is high fashion, The Gobstopper looks to be the catwalk's favourite. The Gobstopper has also attracted praises from fellow web designers, and has been a contender in many web design awards, including the prestigious CSS Design Awards.
Suck it and See
The Gobstopper is a family run independent business with the aspiration of reintroducing a retro feel to the existing confectionary market. There are currently two stores open for those wanting to continue with tradition, but the website allows The Gobstopper's retro message to spread further afield, with the new Click N Mix function bringing this old school experience directly into the retro lover's home.