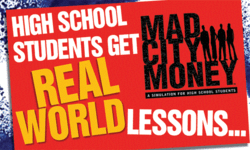 Hauppauge, NY (PRWEB) March 04, 2013
Teachers Federal Credit Union (TFCU) will host Mad City Money at ES BOCES, Milliken Tech Center in Oakdale, NY on March 7, 2013. Mad City Money teaches high school students basic money management within a real-life simulation.
High school students take on the role of an adult in futuristic "Mad City." They're given jobs, income, a family, and debt. Each student must then visit merchants to select housing, transportation, food, household necessities, clothing, day care, and other wants and needs all while building a sensible budget.
Mad City Money allows participants to make mistakes - and suffer the consequences of their decisions - in a realistic, but safe, environment. Most participants are surprised to learn "I can't have a big house and a new truck on my salary and still pay for day care and groceries." Once the shock wears off, they reevaluate their choices and learn to manage their money more effectively. Plus, true to life, Fate visits each participant during the session delivering a windfall check or an unexpected bill.
Once students have had their eyes opened by this simulation, the "Can I Make It on My Own?" Student Guide enforces what they have just learned and can be used to encourage teenagers to plan and budget for adult independence.
"This unique approach to teaching young adults about the importance of making and maintaining a budget is an experience I wish all students could have", said Robert G. Allen, President/CEO of Teachers Federal Credit Union. "True-to-life simulation of learning to live within one's means is a lesson we hope these students will take with them into adulthood."
###
About TFCU:
Teachers Federal Credit Union (TFCU), one of the country's largest credit unions, is a full-service, not-for-profit financial institution. TFCU was founded on Long Island in 1952 and now has over $4.7 billion in total assets, serves more than 227,000 members and has 23 full-service branches throughout Suffolk County including: Amityville, Bay Shore, Brookhaven National Laboratory, Central Islip, Commack, East Northport, Entenmann's, Farmingville, Hauppauge, Holbrook, Huntington, Nesconset, North Babylon, Oakdale, Port Jefferson Station, Riverhead, Rocky Point, Selden, Shirley, Smithtown, South Setauket, and Stony Brook University (2). Members also have access to services at more than 4,900 shared service centers located across the country. TFCU offers financial services to all people and businesses located in Nassau and Suffolk counties (excluding the townships of Southampton, East Hampton and Shelter Island). More information is available about TFCU by visiting http://www.teachersfcu.org or by calling (631) 698-7000.