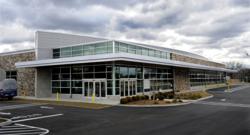 "LourdesCare at Cherry Hill helps us provide a seamless and integrated continuum of care to the residents of South Jersey," says Alexander J. Hatala, president and CEO of Lourdes Health System. "It enhances our ability to serve the community."
Camden, NJ (PRWEB) March 03, 2013
LourdesCare at Cherry Hill, a new, state-of-the-art outpatient center at Route 70 and Brace Road in Cherry Hill, is opening its doors with an official ribbon-cutting ceremony on Tuesday, March 5, and an open house event on Saturday, March 23. Physician offices and programs will move into the facility throughout the month of March.
LourdesCare at Cherry Hill was designed as a convenient, all-in-one location for expert medical care, support services, and wellness programs and classes to help patients maintain their health.
"We are excited to open our doors to the Cherry Hill community," says Alexander J. Hatala, president and chief executive officer of Lourdes Health System. "Our goal as healthcare providers is to focus on prevention and wellness, and to help patients avoid unnecessary hospitalizations. LourdesCare at Cherry Hill enables us to achieve this goal by expanding healthcare services to the heart of our service area. We look forward to making our services more convenient to patients, and to continue to bring high quality-healthcare to the South Jersey community."
The ribbon-cutting comes after two years of planning and construction.
"As we planned this new facility, we thought about how our patients often seek care from physicians in multiple specialties and need additional testing and therapies," says Hatala. "At LourdesCare at Cherry Hill, patients have greater access to our advanced diagnostic and treatment services, as well as our nationally recognized programs and physicians. Lourdes' cardiovascular program, which will be one of the many services housed at our new facility, has been recognized by HealthGrades, making Lourdes one of the top hospitals in the nation for this service. LourdesCare at Cherry Hill provides the physicians, programs and technology, all in one comfortable setting built around the patient."
LourdesCare at Cherry Hill offers many physician specialists, including:

Cardiologists
Cardiac Surgeons
Vascular Surgeons
Bariatric Surgeons
Sports Medicine Specialists
Orthopedic Surgeons
General Surgeons
Rheumatologists
Endocrinologists
Podiatrists
Physical Medicine and Rehabilitation Specialists
Other services include:

Cardiac Testing
Cardiac Rehab
Heart Failure
Radiology
Lab Services
Physical Therapy
"Wholistic" Therapies and Wellness Services
Patients and visitors can take advantage of a coffee cart offering hot drinks and other light refreshments, and a community room is available for classes, demonstrations and other meetings. A full calendar of programs and events will make the center a true healthcare hub in the center of Cherry Hill.
Prior to Lourdes Care at Cherry Hill, the space located at 1 Brace Road served, among other uses, as a supermarket and department store for the last four decades. Now, this modern, state-of-the-art center, developed by Rosewood Real Estate Enterprises of Cherry Hill, can offer residents pre- and post-surgical care, physician specialists, testing and a full radiology center.
"We are proud to have worked with Lourdes on this significant redevelopment project," said Joe Gonnelli, President of Rosewood Real Estate Enterprises. "Not only is the new facility aesthetically transformed, but the new space adds tremendous value to the Cherry Hill community and surrounding areas by bringing quality health care right into our backyard. We are pleased to have partnered with Lourdes on this endeavor."
"We are proud and excited to bring this new facility to the community – one that provides a seamless and integrated continuum of care," adds Hatala. "LourdesCare at Cherry Hill enhances our ability to serve the community."
The community open house on Saturday, March 23, will be held from noon to 2 p.m, and will offer tours, free health screenings, wellness presentations, giveaways and refreshments. For questions or more information, call 1-888-LOURDES or visit http://www.lourdesnet.org.
Lourdes Health System is one of southern New Jersey's leading health care providers, with hospitals located in Camden and Willingboro. Lourdes Health System is sponsored by the Franciscan Sisters of Allegany, NY, and is a member of Catholic Health East, a health system with 34 hospitals on the East Coast.