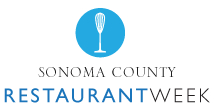 Santa Rosa, California (PRWEB) March 06, 2013
Sonoma County and Santa Rosa known for abundant farm fresh products, fine wine and world class chefs announces Restaurant Week; a seven day celebration of the farm to table fresh food movement and its accompanying premier wine offerings. Visit Santa Rosa is a proud community sponsor. Over 50 restaurants and chefs will participate and create one-of-a kind menu's featuring the freshest products grown in the area in a special three-course dinner menu for $19, $29, or $39, depending on the restaurant. The fourth annual Sonoma County Restaurant Week offers the finest culinary products and will run from Monday, March 18th through Sunday, March 24th, 2013 – Click here for details, participating restaurants and to reserve a table.
Participating local restaurants including well-renowned locations like; John Ash & Co., Bistro 29, La Gare French Restaurant and El Coqui Puerto Rican Cuisine offering brilliant fare along with many other locations. There will be a wide variety of cuisines set at great prices for this event; for just one week restaurants offer a 3-course special prix-fixe menu for $19, $29, or $39 per person. There are no tickets or passes required. Food lovers simply dine out, unlimited times, at any participating restaurants, explore new dining opportunities, or enjoy old favorites. Reservations are strongly recommended.
About Sonoma County Restaurant Week:
This annual event reveling fine dining has drawn local food aficionados for the past four years. Attracting wine country visitors who want to sample the best this Sonoma County has to offer. Each restaurant selects its own price from the three options and participants utilize the abundance of local ingredients and feature local wines as much as possible. The price points allow many to partake and this is a highly anticipated and attended event so it's best to make reservations as early as possible. Calling 7-10 days in advance is highly recommended.
Tips, beverages, gratuity, or tax are not included in the price. The promotion includes 3 plated courses, which will most likely be an appetizer, entree, and dessert. Chefs incorporate local, seasonal ingredients and some feature a wine of their choice to accompany the meal. If a wine is served, it is most likely not included in the price. Restaurant Week is a dinner-only promotion, although some restaurants may offer their menu during the lunch hours as well. Restaurants will offer their Restaurant Week menu only during the days they are open. Please check with each restaurant for exact days and hours the Restaurant Week menu will be served. For more information visit http://www.sonomacountyrestaurantweek.org
About Visit Santa Rosa
Visit Santa Rosa provides assistance to visitors and groups seeking information about lodging, dining and entertainment opportunities in Santa Rosa. The bureau also operates an Official State of California Welcome Center, and helps to bring major events to Santa Rosa, such as the Amgen Tour of California. For more information, please call (707) 577-8674 or VisitSantaRosa.com