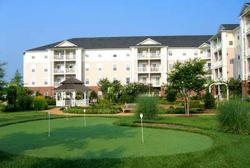 Raleigh, NC (PRWEB) March 01, 2013
On November 29, 2012, The Gardens at Wakefield Plantation, located at 12800 Spruce Tree Way in Raleigh, NC, was purchased by Holiday Retirement, the largest provider of independent retirement living in North America. Today, The Gardens at Wakefield Plantation is pleased to announce the transition from senior apartments to a full-service independent living retirement community.
As a full-service independent living community, The Gardens at Wakefield Plantation provides residents with three chef-prepared meals daily, weekly housekeeping and linen service, complimentary scheduled transportation, and a robust schedule of daily activities and events. Additionally, managers live on-site and are available 24/7. All amenities and most utilities are included in one all-inclusive month-to-month rent.
"We've been working hard since November to enhance the community for our residents and are pleased to announce that the transition into full-service has been a successful one," said Yovan Luyt, Managing Director, Acquisitions for Holiday Retirement.
The Gardens at Wakefield Plantation will celebrate its transition to the Holiday lifestyle with an Open House on Saturday, March 23rd from 4:00 p.m. – 6:00 p.m. The public is invited to preview the improved independent living community now available to seniors in the Raleigh area.
To learn more about The Gardens at Wakefield Plantation, or to RSVP to the Open House, call 919-518-9872.
About Holiday Retirement
Based in Lake Oswego, Ore., Holiday Retirement invented the concept of independent senior living in 1971 and is the largest provider in North America today with more than 300 retirement communities throughout the U.S. and Canada. Holiday Retirement is in the business of providing security, comfort, and value to independent seniors seeking a fulfilling lifestyle in a welcoming environment. For more information about Holiday Retirement, please call or visit http://www.holidaytouch.com.