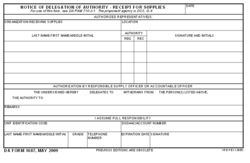 One more addition in the category of forms from laws.com. A commendable launch in the series is DA form 1687
New York, NY (PRWEB) March 03, 2013
One more addition in the category of forms from laws.com. A commendable launch in the series is DA form 1687; this is a United States Army form for notice of delegation of authority for a receipt for supplies. Officials of Laws.com states that the DA form 1687 is casually referred as 'signature card' and mainly this is used for the recording of supplies.
The form is available on the website of United States Army documentation or can be supplied through the Army chain of command. The form can be download from laws.com military forms section
Filling the form DA 1687
The first box in form is for the date and it's at the upper right corner; the receiving party must identify themselves and their location in the following boxes.
It's compulsory that the receiving party has to identify their name. The receiving party must classify their location and authority of every unit of supplies they are receiving from the assigned authority. The officer in charge of supplies must fill the lower part of the DA form 1687. It's the responsibility of the supply officer to mention the type of transfer happening, and the officer has to make the required remarks clarifying the transfer and the reason for the transfer. The receiving party will shoulder the entire responsibility for the supplies which they will affirm on the lower side of the receipt.
At the bottom line of the form, unit identification number, account numbers, name, rank and the contact has to be furnished. When the completion of the form is taken care of, the receiving individual accepting the receipt has to sign on the DA form 1687. Both the supplier and the receiving individual should keep a copy to ensure that the supplies are accounted, and it's occurring through the proper supply chain.
Extra copies should be taken along with the supplies to the next target; this is to provide clarity that the supplies are making their way through proper channels before reaching the final destination.
Laws.com states that the form has to be filled with absolute accuracy as this is concerned with Army supplies. Any sort of difficulty can be eliminated by seeking the help of Laws.com. To make matters easy Laws.com provides video guide for form filling. To view to the video guide and to download the form visit DA Form 1687 page.