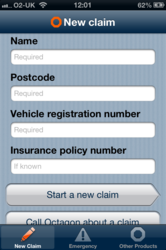 (PRWEB UK) 4 March 2013
Octagon Insurance (the car and van insurer) has announced the launch of its new free accident claims app which can help all motorists and passengers whether they are Octagon Insurance customers or not.
Peter Goodright Claims Director at Octagon Insurance said "We understand that being involved in an accident can be distressing and it can be difficult to think clearly about what information needs to be collected. The reason why we've developed this app is to relieve some of the stress of being involved in an accident. We know customers will nearly always have their phone with them so this is a convenient way for them to collect information and pass it to our claims office in one step while the details are still fresh in their mind. The app is really easy to navigate, plus it will still work even if you're out of network range."
The free iPhone & Android application is available in Apple's App Store and Google Play. It helps those who download the app record all the important details from an accident such as photos of the vehicles & area, collect information like Third Party and witness details and weather conditions, essentially all information that could help speed up the claims process.
As the app helps customers start their claims process at the scene of the accident Octagon Insurance hopes that this will make the whole process easier for customers and reduce any stress or anxiety usually felt in these situations.
Benefits of the Octagon Insurance Claims App are

Free to download and simple to use
Simplifies the claim process
Records the accident location and driver & witness details
Sends the collected claims information securely