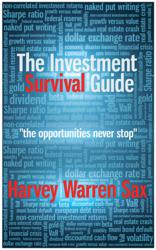 ... the opportunities never stop ...
Park City, UT (PRWEB) March 04, 2013
Top ranked fund manager shares successful strategies in 90 minutes that promises to be the best return on investment all year. No products or services are being sold at this one of a kind Investment Survival Workshop which makes this event a true learning experience. Attendees will receive a free copy of the recently published book, The Investment Survival Guide,by Harvey Sax.
When: Wednesday, March 6, 2013, 12:00pm - 1:30pm
Where: 1887 Gold Dust Ln., suite 203 Park City, UT. 84060
Seating is limited and on a first come first serve basis. To reserve seats go to: http://workshops.saxangle.com
Featured topics for this workshop:

Sequestration, short and long term impact
The next financial disaster is least where it is expected. How to make money off it?
How to identify a growth stock? How to identify a value stock? Which is better? How to avoid a value trap?
How to generate 10-15% annual returns with staid blue-chip dividend paying stocks.
Why be a seller of options rather than a buyer.
How to retire on a fixed income in a zero-interest rate environment?
Why most investors and managers fail to beat the market.
Federal Reserve Says Americans Net Worth Fell 40 Percent From 2007 To 2010.
People that are facing imminent retirement or are already retired and are worried about not having enough money to live on, The Investment Survival Workshop shows how to correct that situation. Fed up with investing and the false promises of financial advisors and gurus, this workshop will provide specific detailed strategies that can be replicated for superior and absolute returns, not that phony baloney relative outperformance.
About Sax Angle Partners
Sax Angle Partners is an independent investment advisory firm based in Park City, UT. Its managing member, Harvey Sax, has earned a national reputation for substantially outperforming the market in good times and bad. He has served as Vice President and Senior Vice President at Bear Stearns, Inc, Paine Webber, and Oppenheimer Co. In addition to his financial acumen, Sax is recognized as a pioneer in the technology field. He is responsible for creating one of the first publicly traded Internet companies. Having sat at most seats at the investment table, Mr. Sax credits his success to this uniquely shaped 360 degree perspective. During an 18th month period ending February 2012, Sax Angle Partners was ranked as the #5 long-short equity fund in the world by Barclay Hedge, a leading independent alternative investment database vendor.